TikaWeeks #08/2018: Sri Lanka update
Posted by John on 24th February 2018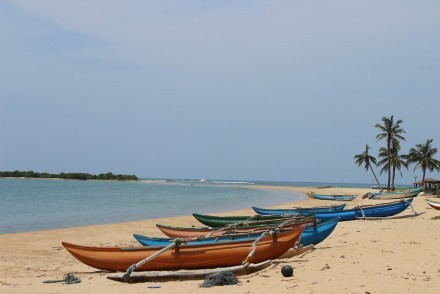 Summer holidays in Sri Lanka
With Easter nearly upon us, school summer holidays are traditionally the next holiday season. However, as discussed in previous blogs, don't miss out on the opportunity of visiting Sri Lanka in the off season (May and June) if you are able, when the island is much quieter, accommodation is the cheapest of the year, and many areas are ripe for exploration. Going back to the school summer holidays (July and August), the better areas to visit during this period are in the eastern and northern regions of the island, which are away from the southwest monsoon (May to October).
Wildlife
Bundala NP – One of the island's main bird sanctuaries, which offers a variety of habitats including scrub jungle, lagoons, saltpans and shoreline. Birds of particular interest include: Asian Openbill, Eurasian Spoonbill, Sri Lanka Junglefowl, Brown-capped Babbler, various egrets and winter waders.
Gal Oya NP – Surrounds the largest lake on the island and it is the only reserve where you take a boat safari to see wildlife. The highlight is to see elephants swimming in the wild (potentially!).
Kumana NP – Previously known as Yala East NP, Kumana is one of the island's principal bird sanctuaries that is also home to leopards, sloth bears and elephants roaming across the unprotected border from neighbouring Yala West National Park. Kumana is best known for its abundant bird life (250 species of birds have been recorded including many rare species) and hosts tens of thousands of migratory birds between April and July.
Minneriya NP – Forms an 'elephant corridor' for the vast herds roaming the eastern region of the country from Trincomalee through to Wasgamuwa, Maduru Oya and Gal Oya NPs further south. The park is home to a variety of animals such as elephants, leopards, toque macaques, purple faced langurs, sloth bears, sambar and spotted deer, and about 160 bird species, including many endemics. The 'gathering' takes place in Minneriya between August and October, when large herds of elephants congregate around Minneriya Lake to seek the last available water at the end of the dry season.
Uda Walawe NP – The main elephant reserve on the island and home to the Elephant Transit Home, where orphaned and injured elephants are looked after before being reintroduced into the wild (supported by the Born Free Foundation).
Wasgamuwa NP – Known for its abundant wildlife, wilderness setting and a number of ancient sites, of particular interest are sloth bears since research in the park suggests that the density of bears in Wasgamuwa is probably higher than anywhere else in Sri Lanka – the name "Wasgamuwa" may derive from an ancient meaning of a gathering place for bears. In addition, the park has the reputation of being home to some of the largest Asian elephants and the 'marsh elephant' of Wasgamuwa is reputedly the largest of the Sri Lankan elephants. Over 143 species birds have been recorded in the area, of which five are endemic to Sri Lanka, 15 species of amphibians and 35 species of reptiles as well as 52 species of butterflies can be seen flitting around the park.
Wilpattu NP – Sri Lanka's largest national park and much quieter than its more illustrious counterpart in the southeast of the country (Yala – see below). Principally a dry lowland zone, the main topographical feature in the park is the concentration of 'villus'. Though looking like lakes, these 'villus' are in fact basin-like fault depressions in the earth that fill with rain water during the monsoon season. The 'villus' attract a variety of animals including leopards, elephants, sloth bears, crocodiles, water buffalos and deer. The 'villus' also support a variety of resident and migratory waterfowl as well as forest or scrub dwelling bird life.
Yala West NP – The island's principal wildlife reserve and home to the highest density of leopards in the wild in the world. Sloth bears, elephants, deer and over 150 species of birds are also resident.
Culture
Anuradhapura – The first capital of ancient Lanka in the 3rd century BC and another of the principal points of the island's Cultural Triangle. Large historic site and quieter than Polonnaruwa with three major monastic complexes.
Dambulla – Home to the island's most impressive cave temples. It is best visited earlier in the morning or late afternoon when it is cooler and less busy.
Jaffna – An immersion in the Tamil Hindu culture and a very different experience from other regions of the island. Jaffna city is still developing following the peace of 2009, with the fort undergoing renovation, the World Heritage Site library restored, and Nallur Kandaswamy Kovil, one of the most sacred Hindu temples in Sri Lanka, open to visit. There are also islands to explore, such as Nainativu of the Jaffna archipelago, home to Nagadeepa Purana Rajamaha Viharaya, one of the sites the Buddha is believed to have visited and an important pilgrimage for Buddhists.
Kandy

Seat of the last Sinhalese kingdom, home to the Temple of the Tooth, which is the island's most revered religious relic, and one of the principal points of the island's Cultural Triangle.
Kandy Esala Perahera – One of the cultural highlights of the year, takes place from 17 to 27 August 2018. The perahera is an elephant parade with much pomp and ceremony in homage to the Buddha's sacred tooth relic, which is normally housed in the Temple of the Tooth. The procession includes Kandyan Dancers & Drummers, the caparisoned Maligawa Tusker (sacred elephant) carrying the tooth relic, fire-eaters and jugglers, and marching bands.

Polonnaruwa – Medieval capital and another of the principal points of the island's Cultural Triangle. It houses many well-preserved temples and statues, particularly the enigmatic Gal Vihara, which must be one the most exquisite rock carvings in the world.

Sigiriya – 'Lion Rock' is another favourite, which is a 5th century AD usurper's pleasure palace and rock fortress. It is best visited either in the early morning or late afternoon when it is cooler and less busy.
Trekking
Either in the Hill Country, particularly Horton Plains NP or trails around Ella, or in the Knuckles Mountain Range, are favourite areas for walking and trekking.
Train
Many of our customers rate a train ride into the Hill Country as one of their highlights. Up to Jaffna is also possible.
Beaches
In July/August, the best beaches are on the east coast as they are well away from the southwest monsoon. The sky is clear and the ocean calm.
Arugam Bay – On the southeast coast, is Sri Lanka's surfing 'Mecca', although most of the accommodation is simple guesthouses, but we do have a couple of out-of-the-ordinary places to stay in the area.
Nilaveli/Uppuveli/Kuchchaveli – North of Trincomalee (Trinco), is a relatively quiet beach area with access to Trinco, a few temples and hot springs as well as whale watching (between March/April [best] and August).
Passikudah – South of Trinco, is a much busier resort area with good quality hotels and water sports but little of interest in the immediate area outside of the beach, which is one of the best in Sri Lanka.
Responsible wildlife watching in Sri Lanka
With the popularity of Sri Lanka knowing no bounds, the national parks and other wildlife watching areas are becoming overrun with visitors, which is having a significant and detrimental impact on the animals' welfare. Reports of queues of jeeps lining up to spy a solitary, beleaguered leopard atop a rock in Yala, or a family group of elephants surrounded by gangs of shouting and selfie stick-toting tourists in Minneriya , or a flotilla of boats chasing and harassing an unfortunate whale off Mirissa are becoming more frequent and we at Tikalanka are very concerned by these increasing incidents. It is about time that the relevant authorities in Sri Lanka regulated the burgeoning wildlife sector before it is too late… There is a current restriction on the number of jeeps permitted daily into Yala West NP but more needs to be done across the whole island to mitigate the negative impact of 'over-tourism'.
Ever since we launched back in 2004, Tikalanka has promoted responsible and sustainable wildlife watching. For instance, we have never endorsed or visited Pinnewala Elephant 'Orphanage' following adverse reports from Travellers' Animal Alert, the global animal welfare campaign of the Born Free Foundation that we support, and some of our own customers who visited independently. In addition, after recent negative feedback from our own customers and poor general visitors' reviews, we have stopped promoting the Turtle Conservation Project at Rekawa, which is in line with ResponsibleTravel.com, one of our principal partners. We will continue to review and assess our involvement in all of the wildlife activities that we offer as a fundamental best practice principle.
On a positive note, there are plenty of areas and providers offering top quality and responsible wildlife viewing experiences, as you will read in our customer feedback reviews. We support and seek the assistance of a range of wildlife experts across the country (and in Maldives, too – see 'Maldives wildlife cruises' below), which we hope will enhance our customers' enjoyment of their holidays. Even the busier and more popular sites such as Yala can offer an unexpected moment or two of wonderment, as my family experienced a couple of years ago when we were lucky enough to see a leopard in a jungle clearing, a large male elephant crossing in front of us, and a sloth bear ambling along the track towards us, all sightings with no one else around!
Maldives wildlife cruises
We are pleased to introduce a range of whale and dolphin watching holidays in Maldives. All trips are led by Dr Charles 'Chas' Anderson, a professional marine biologist who has lived and worked in Maldives since 1983. Chas is the foremost authority on the whales, dolphins and fish species of Maldives, and a pioneer of whale and dolphin watching in the region. With his wife, Susan, he runs a small specialist business providing world-class wildlife watching holidays in the Indian Ocean. The main emphasis is on whales and dolphins, but all forms of wildlife, including birds, fish and some quite extraordinary marine insects, are also of great interest.
The cruises are based on a basic but comfortable live-aboard safari boat and conducted at a leisurely pace, allowing time to snorkel and to visit a variety of islands. Time spent around the southern Thaa Atoll in search of cetaceans migrating nearby will offer you a wonderful variety of tropical dolphin and whale species. There is also the opportunity to visit uninhabited, fishing and resort islands, and plenty of time for snorkelling on the coral reefs. If conditions are suitable, you can expect to swim with giant Manta Rays, which are stunningly beautiful creatures, and for most people the chance to swim with them is a wildlife highlight of a lifetime. In Thaa Atoll there is a reasonable chance of a Whale Shark encounter as well. Please contact us for more details and prices of forthcoming trips.
Maldives government extends state of emergency
On 05 February 2018, the government of Maldives declared a state of emergency, which was to be in effect for 15 days, but on 20 February 2018 extended it further. The initial decision followed civil unrest in the capital city of Malé due to a Supreme Court ruling on 01 February 2018 regarding the release of certain high-profile prisoners. The reported disturbances are confined to Malé, while the outlying islands, resorts and Malé International Airport are not affected.
The welfare and safety of our customers is paramount and we will continue to monitor the situation and provide information and updates as appropriate. We assure customers that the situation does not affect resort operations. Customers arrive at the international airport in Malé, which is located on its own island, and travel from there directly to the resorts. At the resort there is, as always, permanent but discrete security, ensuring the safety of guests, as well as controlling access to the resort. The resorts continue to operate as usual and without interruption, however as a precaution, the resorts have decided to cancel Malé excursions until further notice.
Please go to FCO Maldives for more information.
Categories: Culture, Maldives, News, Sightseeing, Sri Lanka, Travel tips, Wildlife
« All articles