TikaWeeks #51-2/2019: Sri Lanka update
Posted by John on 18th December 2019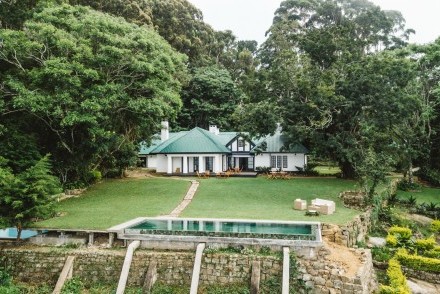 A day trip into the Hill Country to view a long list of potential hotels is never easy with the inevitable and ubiquitous switchback bends, slow pollution-emitting trucks, pedestrians, bicycles, motorbikes, dogs and the other ephemera associated with Sri Lanka's extensive road network. However, with a 5am start and Sateesh at the wheel, we make it to Haputale in less than four hours, which is very impressive progress indeed.
Our first stop is Thotalagala, which is an ancestral tea estate bungalow perched on an escarpment overlooking the southern plain that has been recently extended and renovated and opened as a boutique hotel. Along the lines of the Ceylon Tea Trails properties around Castlereagh Lake near Hatton in the western Hill Country, Thotalagala is aiming at high-spending guests who would like an all-inclusive, no-timetable stay. The Junior Suites and Suites are all named after important and significant figures connected with the development of tea cultivation in Sri Lanka and come with all of the luxuries that you would expect from a premium residence, including personalised butler service. Although various excursions are possible from the hotel – probably one per day max – the environment and atmosphere of the property encourage you to kick back and relax, particularly during the drier, hotter months (June to September) when the views can be spectacular. It is a popular honeymoon destination. Recommended.
We continue on to an old favourite, Kelburne Mountain View, which has a new owner and revamp. We're taken around by Ravi, the super-friendly and enthusiastic retainer who has worked on the estate for over 20 years – we must have met him on previous visits… Now with four bungalows – Aerie, Rose, Sunflower and Wildflower – the estate looks much better kept than our last visit when we decided to remove it from our recommended list. The bungalows have had a clean-up, modernisation and paint, and the garden pruned back and well-tended. Having said that, the bungalows are not of the calibre of Thotalagala or the like, with antiquated standard-sized double beds, basic bathrooms and old-fashioned furniture adorning the sitting room. However, the location, the potential of al fresco dining on local produce and the wonderful staff, not to mention the reasonable price, will make up for the other inadequacies if you arrive without too many expectations. Recommended.
Then the nightmare began… We have had previous customers stay at The Planters House near Koslanda and had favourable feedback – and no real mention of the access 'road' to it – so we expected an easy and quick view. Picked up by an old, open-backed tea estate delivery van, we started out well along a metalled 'carpet' before turning off onto the usual potholed and rutted tea plantation road that quickly deteriorated into a boulder-strewn and muddy track. I appreciate that we visited during the wet season but even when dry and (possibly) undamaged by the mountain torrents this route would test the patience of Job to say the least. Both Pathi and I were thrown around like a sack of potatoes in the back, valiantly hanging on for grim death, and endured this abuse for over half an hour before finally getting into contact with the property in an area known for very poor mobile coverage. They told us that we had "only" another four or so kilometres to go, which at this rate would take another half an hour – I won't repeat my answer here but suffice it to say that we told them in no mean terms that enough was enough and we were returning to the main road. A real pity considering the provenance of the house itself but no way are we able to market it with the current state of the access route.
After wasting more than three hours on a fruitless visit, we head to Nuwara Eliya, a British colonial hill station and the highest town in Sri Lanka at 1900 metres above mean sea level. First stop was SinhaGiri, another boutique property managed by Manor House Concepts of The Kandy House and The Last House fame. Well, what can I say? SinhaGiri certainly has the 'Wow factor', although it will appeal to some and not others. The two bedrooms and main reception room are enormous and well-presented but the decoration and furnishing of the other rooms and main corridor may overpower some guests, with the latter feeling as though you are entering Dante's Inferno! Undoubtedly unique, eccentric and flamboyant but not necessarily to our taste. One to consider, particularly as you have exclusive use of the property and personalised service, but with reservations.
Only one time have I visited 'The City of Lights' in the sunshine, with one of my sister's groups of friends five years ago, and today is no exception – rain, rain and more rain and cloud. Nuwara Eliya is not my favourite place to stay by any means. Both of our other viewings are disappointments. Firsmead Bungalow is mighty bizarre as it has an enormous sweeping extension akin to a poorly executed addition to a post-war suburban property in the Home Counties. This monstrosity houses a heated swimming pool to the side and a large sun lounge to the rear. The original house accommodates the bedrooms, which are damp and musty. Not good at all. Ferncliff Bungalow, when they allowed us in the main gate, was overly dark and claustrophobic with an odd layout and outdated rooms. Supposedly an historic building but poorly presented. No way.
We return to Kandy as the sun sets and more rain sweeps through the vertiginous and verdant central highlands. I really take my hat off to Sateesh for his professionalism, commitment and stamina – to drive on Sri Lankan roads for more than 12 hours straight is nothing short of heroic!
Categories: Accommodation, Honeymoon, Sri Lanka, Travel tips, Weather
« All articles