TikaWeeks #50/2021: Sri Lanka update
Posted by John on 16th December 2021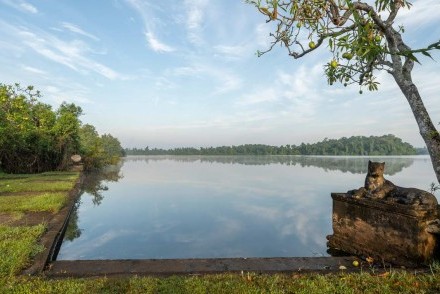 Just returned from an 18-day research trip to Sri Lanka, which was a precursor to restarting our holidays by the New Year. Pathi and I travelled around the island meeting tourism colleagues, visiting current and new accommodation, and discussing the restart with our guides. Overall, the trip was a success and we are confident that a holiday in Sri Lanka will be a great experience despite the few extra precautions required due to COVID-19.
After an enjoyable few days in Kandy with the Pathiranas, my second family, Pathi, Sateesh and I began our 'Southern Tour' of the island. Starting early, we followed the ever-winding route southwest into the western Hill Country, Sateesh driving expertly along the narrow roads that cut through the abundant wild vegetation of Sri Lankan 'jungle' towards Ginigaththena, from where we headed southeast to Hatton. Country roads in Sri Lanka are lined with any number of Kopi Kade (corner shops) and 'hotels' (small local restaurants or cafés), as well as fruit and vegetable stalls, and I always wonder how they manage to keep going.
Our first stop was Mandira Strathdon Bungalow near Watawala, a favourite of ours. Perched above the road and framed by a giant stand of bamboo, the early 1900s bungalow is surrounded by tea plantations and has glorious panoramic views across the Strathdon Estate from its front garden. The rooms are typical of its era and have been maintained well enough to offer guests a taste of a bygone age in comfort. A sister property, Mandira Craig Appin Bungalow, on the outskirts of Dickoya not too far away, has a similar feel to Strathdon but without the view. Immersed in a garden and with activities for kids, this is best suited to families.
Returning to Hatton, we took the road east to Nuwara Eliya, stopping at a new place for us on the way called The Argyle. Unlike much of the accommodation in the tea region, this is a new hotel rather than a former tea estate bungalow, although the hotel does hark back to the Scottish heritage of the early tea planters with rooms, restaurant and lounge named after Scottish historical characters. With four categories of spacious rooms, all well-appointed and overlooking the surrounding tea estates, the quiet location and exceptional position of the hotel affords excellent views of Adam's Peak (on a clear day!), particularly from the top-tier rooms and restaurant.
The journey so far had shown us the continuing investment in the road network's infrastructure, which took off following the end of the civil war in 2009. Initially, we saw a much-needed upgrade of the 'A' roads across the island, which are the main vehicular arteries connecting the principal cities. This reduced travel times dramatically: the A5 road from Kandy to Nuwara Eliya pre-upgrade could be an arduous and stomach-churning four-hour switchback drive through the vertiginous Hill Country, now it is just two hours direct; the same reduction in journey time has also happened on the A6 between Habarana in the Cultural Triangle and Trincomalee on the island's northeast coast. A large amount of the current investment is directed at the expressway projects, Sri Lanka's first 'E Class' highways (motorways or freeways), from Bandaranaike International Airport (BIA) north of Colombo to Hambantota in the south-eastern corner of the country and gateway to Yala, which was completed last year, and from Colombo to Kandy, which is in progress. These new roads will change the social dynamic of the country significantly and irrevocably: BIA to Yala used to be an exhausting, bum-numbing, bone- and nerve-jangling 12-hour endurance test when I first visited Sri Lanka over 20 years ago (we stopped en route, funnily enough!); today, it is a smooth, comfortable and relaxing five-hour drive via the Southern Expressway. This means that, not only can foreign visitors speed their way from the airport to Yala and beyond, but also the ever-expanding and socially-mobile domestic tourist market from the Colombo area, which has been the mainstay of the tourism industry in Sri Lanka for the last two years since the onset of COVID-19.
The new place in Nuwara Eliya turned out to be a damp squib – envisage a mock-Tudor executive homes estate meets the Stepford Wives! – so we headed on to Ella, unfortunately missing Simon and his wonderful community-based project at AMBA Estate as he was away down south in Matara.
As we dropped down through Ella Gap from Ella to Wellawaya on the southern plain some 1000 metres below, we were reminded of the awesome power of the monsoon which seemed to be overstaying its welcome in this part of the country. Giant boulders as big as a truck were lying each side of the road, a few precariously poised at the edge of the road ready to drop further into Ella Gap. Many smaller rock falls had been cleared recently from our path and more looked set to cascade down on us at any moment; thankfully none did.
The hour or so drive from Wellawaya to Tissamaharama (TIssa) across the southern plain is usually a hot affair, with bright blue sky and blazing hot sunshine, mirages shimmering above the soft tarmac, and people seeking shade under trees, umbrellas or shop awnings. Not today. Grey skies, mizzle and cool temperatures, taking me back to my home in the Lake District! October is normally the time of the change in the monsoon systems but this year it has apparently slipped well into November...
We just managed to find Tribe Yala before nightfall (18.00 in sub-tropical Sri Lanka) after arriving later than planned due to Pathi missing the turning for The Argyle earlier in the day and the staff at Tribe Yala not getting their act together to transfer us by four-wheel drive to the campsite – c'est la vie. In the end, we took a look around by torchlight and artificial lighting, which was fine enough. The 'luxury' tents are impressive and most comfortable for a pampered stay in the bush – a/c included. At this stage my main reservation of offering this campsite is how they produce electricity, which is by a diesel-powered generator. Since we promote sustainable travel, this doesn't fit with our ethos when there are alternatives. More enlightened safari camp outlets in the area such as Kulu Safaris and Mahoora generate all of the power they need by solar panels stored in batteries. Until Tribe Yala does similar we will be unable to promote them, unfortunately.
My idea had been to stay in Tissa tonight but Pathi had convinced me to push on to Rekawa near Tangalle and stay at Buckingham Place, one of our favourites. With the time now at 19.00 it was still a couple of hours to Rekawa and we had started the day at 06.00 this morning so I wasn't that enamoured to have to keep going. However, in the end, it was definitely the right thing to do. The very warm welcome we received at Buckingham Place by Nick himself, Kalpa his right-hand man and the rest of the staff more than made up for the very tiring day and the extra (originally unplanned) leg of the journey from Tissa. With Sateesh well looked after behind the scenes, Pathi and I descended on the beachfront dining room, thirsty and famished. There were other guests in tonight, which was a nice surprise – most of them past guests taking Nick up on his generous offer of extended-stay discounts. After a couple of G&Ts and a very tasty vegan Rice & Curry, all was right with the world! And I slept like a log in the very spacious and comfortable suite we were given to boot – zzzzzzzzzzzzzzzzzzzzzz.
It is always an absolute pleasure to meet up with Nick and chew the fat regarding Sri Lanka, tourism and beyond. A wonderful ambassador for Sri Lanka, Nick has invested much time and money in the country over the past two decades or so, initially supporting the development of a new hospital at Tangalle following the tsunami in 2004. Kalpa has been managing the property with Nick for a while now and he is a real credit to Sri Lanka. Their hospitality is unrivalled and we were treated like royalty.
West along the south coast just past Tangalle the next morning we stopped at Aga Surf View, where one of the Rajapakse sons was vacating a room. We were impressed by the quality of the cabanas (and only five on site fits in with our 'small and beautiful' ethos), but the feel of the place was way too surfie for most of our customers and the beach was nothing to write home about unless you are a surfie. This could be an option for the right-minded traveller, however.
Talalla Retreat, further west towards Mirissa, has been on our accommodation list ever since it opened when it launched as a surfing and yoga resort fronting one of Sri Lanka's most attractive and tranquil, golden crescent-shaped beaches. Over the years it has expanded the accommodation choices as well as the activities on offer, now including wellness, pilates and boxilates (a dynamic fusion of mat pilates and fitness boxing). Popular with a younger crowd, Talalla Retreat has a peaceful and spiritual ambience enhanced by the generous proportions and natural environs of the beachside estate. Recommended more than ever for a laid back beach stay with a chance to swim safely in the ocean.
Continuing on to Mirissa, we visited Imagine Villa Hotel and Sri Sharavi Beach Villas & Spa, both of which we will definitely keep on our recommended accommodation list, before viewing the Reveal Collection properties nearby. We already know Lantern Boutique Hotel and Ubuntu Beach Villas, the former ideal for couples and the latter better for families or groups, but we thought we didn't know The Beach House. However, it turned out to be the new iteration of a previous Casa Colombo entity that really didn't appeal to us at the time some years ago. With a facelift and new management, it is a vastly different kettle of fish and one worth discovering. All three Reveal Collection properties are within a stone's throw of each other at Kamburugamuwa just east of Mirissa bay fronting a sandy beach with the Indian Ocean beyond. The Beach House has six luxury bedrooms and will be marketed for whole villa stays as well as by individual rooms.
We missed seeing Number One Mirissa due to renovation works so we ventured inland behind Weligama to Malabar Hill. The foreign and absent owners have bought all of the land on and around the hill, which has far-reaching views of the ocean and the surrounding hinterland. Only just opened, we had an in-depth chat and tour with the delightful Sanjiva, the General Manager whom we knew from his previous days at Jetwing Hotels, and Eran, the Marketing Manager. Certainly opulent and grand, all of the exclusive villas have very spacious and bespoke interiors, plunge pools, and terraces with impressive views. However, the overall look of this upmarket boutique hotel has the strong architectural themes of a Rajput fort rather than of Sri Lankan origin: Moorish arches, tiles and battlement crenulations; Rajasthani-influenced furniture and carpet design; bold wooden lintels and architraves, intricately-carved fenestrations, and objet d'art reminiscent of Moghul India. This gives it a slightly bizarre and alien feel, which may be the intentions of the owners who have micro-managed the whole project to the smallest detail, even to how the bar edge should be finished – which was changed twice! Need I say more…
Another special place away from the coast is Kiripalu at Ahangama. Self-styled as a boutique villa, it is in fact two houses, separated by a 13-metre swimming pool, within an elegantly landscaped tropical garden of kiripalu and coconut trees, deep purple orchids, and giant ferns. The original plantation house has had a high-spec renovation and still retains the colonnaded internal courtyard of a traditional walauwa. Individual rooms are available here. The garden house, which may have been outbuildings of old, has been transformed into a duplex estate house fit for a family, with independent kitchen. A tranquil place to stay and a good base from which to explore this stretch of busy coastline.
Our last visit of the day was to Tabula Rasa Resort at Habaraduwa, which we first saw in 2018 whilst it was being built (it opened in April 2019). Again set back from the coast, the resort commands great views from its seat on top of Polkanda ("coconut hill"). Unfortunately, we managed to see just one of the rooms before the heavens opened with a monsoon deluge, which terminated our brief visit. As access is difficult during the wet season, we had left the car about a kilometre away on safer ground, which meant we had to return by foot under the cover of borrowed umbrellas – ours had failed on opening. The young lad who accompanied us to return the umbrellas was nice and chatty and chaperoned us expertly back into Sateesh's care.
We had two nights staying at Fort Bliss in Galle to allow us to research new and old places along the south coast. Our 'starter' place to stay in Galle Fort, it is incredibly good value for the quality of accommodation on offer. Thameez, the very generous and hospitable owner, gave us complimentary rooms and even followed up daily with the staff to ensure we were properly looked after – how kind and thoughtful. Both evenings we ate at The Fort Printers, another of our favourite local places to stay and eat out, and the food and service were excellent.
The next day we returned east along the south coast to Ahangama to visit Wijaya Giri, which turned out to be at the end of the same road leading to Kiripalu. Still being finished, the renovation was uplifting yet another old ancestral plantation house to the dizzying heights of yet another boutique villa. Yet another foreign owner had invested in Sri Lanka… When finished, Wijaya Giri will be a fully-serviced holiday home for whole villa rental.
Thalpe, a narrow stretch of golden sandy beach just to the east of Galle, has been a favourite for villa development for decades as the lack of any sizeable land plots limits hotel construction, which is a good thing in my opinion. Many of the villas are available only for exclusive rental but more over the years have opened offering individual rooms as well. Apa Villa Thalpe is one such property that has been on our books ever since we launched. Changing little in the interim, it has been kept simple and it works, with the only failing being varying standards of management from time to time. On this visit, a new owner and management had taken over the villa recently, hopefully with the aim of renovating the suites and communal areas, which are in dire need of refurbishment. Until this happens, we will be unable to promote it, unfortunately.
A brief look in at The Frangipani Tree was all that was needed to reassure us that this luxury villa is an excellent beachside choice in the Galle area. Then we were on to Selenya Talpe (no website at present), a brand new villa close by. Fresh, bright and designed with style, this boutique hotel has been finished to exceptionally high standards and has a generous beachfront garden to relax in, with over-water, canopied day beds straddling the swimming pool and a stand-alone Jacuzzi. Although promoted as child friendly, I would suggest that the sophisticated ambience, which is reinforced by the chic restaurant and bar, and grown-up nature of the villa lends itself to couples or groups of adults rather than families, unless you take over the whole property.
Sielen Diva is unique amongst the villas on offer in the area and a breath of fresh air. Designed and developed by an overseas family of Sri Lankan heritage, this exceptional boutique hotel has an extraordinarily spacious and open-to-the-elements ground floor, where communal lounging and sitting areas, dining spaces, and bar are all open-plan and seamlessly flow from one zone into another. The three suites and four deluxe rooms are all ocean facing and have been decorated in a contemporary style and feature singular objet d'art personally sourced by the family. I preferred the upstairs bedrooms (one suite and three deluxe rooms), with their light and airy feel and wonderful views. The ground floor deluxe room is adjacent to the communal living area, while the remaining two suites are described as ocean view garden suites but felt a little bunker-like to me with their narrow and deep profile, not too generous ceiling height, and lack of external natural light. However, beauty is in the eye of the beholder and these very sizeable suites would be ideal for families.
We then had planned to visit various properties in Unawatuna, but after driving down to the bay passing the usual backpacker shops, cafés, restaurants, bars, laundries, massage and tattoo parlours, taxi and tour services, and cheap accommodation, we decided to give the area a miss and not offer any places to stay in Unawatuna proper in the future, similar to our feelings about Hikkaduwa along the west coast.
CoCoBay Unawatuna is not on Unawatuna bay but on its own private beach west around the promontory from Jungle Beach looking towards Galle Fort. Well established, managed and looked after by its Sri Lankan-French owners, we were very happy how the resort looks and functions following the pandemic. The staff is excellent and the attention to detail impressive considering what has happened in the past couple of years. Definitely to be recommended.
And back to Galle Fort. The Fort Printers has been refurbished, which may have been necessary but seems to have been motivated by a desire to change the former traditional Fort aesthetic to a more modern urban chic appearance, may be appealing to the monied Colombo set that has become the mainstay of Sri Lankan tourism since COVID-19 closed borders. Gone are the copper washbasins, muted hues and lighting, and soft furnishings of a bygone era; in are modern art works, slate-lined showers, brighter lights and vibrant décor. At least the copper fittings were put to good use: the new bar top was fabricated from the melted-down precious metal salvaged from the bathrooms. The recent upgrade has changed the aesthetic and ambience significantly but, on first impression, I preferred the look and feel of the original hotel. However, the restaurant, staff and rooms are still excellent, and the fresh and novel take on a classic building may grow on me with time.
The Bartizan within the ramparts is yet another boutique hotel housed in a heritage Dutch colonial-era property. Some of the upper-floor rooms have ocean views and all are very comfortable, although the Tower Rooms are in need of immediate refurbishment due to peeling paint and damp external walls. Slightly overlooked by people strolling or jogging around the ramparts, the hotel is a reasonable option, particularly now that one of our favourites, Yara Galle Fort, has ceased to function.
Opposite side of Pedlar Street along from The Fort Printers sits The Merchant Galle Fort, which is unusual to the say the least because it is a new-build property in Galle Fort. Being within the confines of a World Heritage Site, it took over four years to obtain the requisite planning and building permits, and another two years to construct. It has been built on one of the largest available plots of land in the Fort and nothing has been spared in its development. Having the luxury of such a large plot has allowed for a particularly impressive frontage to the street and very spacious outside bar and dining areas within a cobbled courtyard. Although following the Dutch colonial aesthetic of the Fort must have been one of the compulsory architectural parameters of the planning agreement, the design of this triple-storeyed, L-shaped faux traditional edifice has been executed sympathetically and expertly. As you would expect, the bedrooms are immaculately finished with polished hard wood flooring and ceiling boards, black-and-white-tiled luxury bathrooms, sumptuous Queen-sized beds and tasteful décor. The overhanging eaves act as a design aesthetic as well as a sun shade for the top floor, as do the similarly generous eaves shielding the verandas around the courtyard. The overall décor is rich and opulent without being ostentatious, harking back to the heady maritime trading days of Galle as a major port of the Vereenigde Oostindische Compagnie (VOC), better known as the Dutch East India Company. A very special place to stay in Galle Fort.
The following day was the last of our 'Southern Tour'. Taking the Southern Expressway north to Bentota, we exited at the Ambalangoda junction and headed to Lunuganga, one of the architectural highlights of the island. To those of you not in the know, Lunuganga was the country estate of Geoffrey Bawa, Sri Lanka's most celebrated and revered contemporary architect, which he carefully and painstakingly developed over five decades until his death in 2003. Even if you don't decide to stay on this historic and hallowed estate, it is definitely worth visiting on a tour and enjoying lunch on the spot where many of the country's most famous and innovative modern buildings were conceived and designed. A must if you are interested in the architectural and design history of the island, particularly now that Ena de Silva's, Bawa-designed house has been moved brick-by-brick from Colombo and meticulously rebuilt at Lunuganga – Ena de Silva, a world renowned expert in Batik and credited with re-establishing the art in Sri Lanka, was one of Bawa's original collaborators, with much of her work appearing in many of Bawa's buildings, including a giant batik mosaic adorning the entire ceiling of the lobby to the original Bentota Beach Hotel.
Like most of our customers, if you decide to stay at the beach rather than inland when around Bentota then there are a couple of other iconic Bawa-designed villas that may be of interest. Club Villa was originally designed by Bawa as a house for his friend S.G. Hameed, whom he had met at his quintessential and newly opened Serendib Hotel on Bentota beach in 1970. Later the house was extended at various times by Anjalendran and Channa Daswatte, both collaborators of Bawa, and turned into a hotel. Hameed has been a dear friend of Tikalanka over the years and Club Villa remains a firm favourite of ours despite Hameed selling it a while ago. To our joy, the villa has been looked after well by its current Japanese owner and we are more than happy to promote it once again to our customers.
Continuing the story of Bawa and Hameed, back in the day Bawa had tried to persuade Hameed initially to buy a traditional 19th century walauwa on the plot of land next to where Club Villa was later to be developed, but Hameed's new wife, Dani, was sceptical and opted for a new build next door. In the end, Bawa converted the old mansion house into Sri Lanka's first boutique hotel, Mohotti Walauwa. Today, after many incarnations, it is The Villa Bentota. Thankfully, this wonderful property has landed in the hands of George Cooper, a designer extraordinaire and owner-proprietor of amazing Kahanda Kanda and contemporary KK Beach. Under his expert eye and with his inimitable design flair, The Villa Bentota has finally come of age. To add to this, the current General Manager, Glenville, is well known to us from his Fox Jaffna days and is an excellent maître d'hôtel. Highly recommended.
Our last visit in the Bentota area was to the reincarnation of the iconic, Bawa-designed Bentota Beach Hotel that was demolished a couple of years ago and, like the phoenix rising from the ashes, has been resurrected as Cinnamon Bentota Beach – in fact, the incredible Laki Senanayake-designed giant bird sculpture housed in the former hotel was left in situ throughout the construction and now sits imperiously within the new building in its original position! The new luxury resort has taken many of the design elements from the original hotel, including the central building that houses the lobby/reception, a restaurant and bar, and the top-tier bedrooms as well as function rooms. However, the footprint of the new structure looks twice the size of the original! Detail is everything and Channa Daswatte, the lead architect on this project who was one of Bawa's last collaborators, has fashioned a fitting homage to the venerable old hotel while developing the vast oceanfront estate into a refreshingly modern beachside resort. For example, the main ground floor reception and social area has emulated the awe-inspiring Batik mosaic created by Ena de Silva for the ceiling decoration in the original hotel. For a large resort with a myriad of room categories, facilities and activities, Cinnamon Bentota Beach remains in a class of its own in the area and will appeal to visitors who enjoy plenty of choice in the anonymity of an international-style hotel.
We missed out on a few hotels through the central highlands and in the south of the island due to closures, renovations or no-shows but we saw and experienced a lot and felt that Sri Lanka is ready for an influx of foreign visitors once again.
Next time, I will tell you all about our 'Northern Tour', which covered the Cultural Triangle, the northeast coast around Trincomalee, Jaffna and the far north, the Wilpattu National Park region, and Negombo. I will also give you my view on flying during COVID-19, from pre-departure PCR testing and Manchester airport check-in/security, on-board the flight to Colombo with Emirates via Dubai wearing a face mask throughout (except when eating or drinking, of course!), to arrival/departure procedures at Colombo airport and pre-flight PCR testing in Sri Lanka. Not to mention the compulsory (at the time) Day 2 PCR test when back in England, which changed from a Day 2 Lateral Flow Test while I was out in Sri Lanka...
Categories: Accommodation, Flights, Health, News, Sightseeing, Sri Lanka, Travel tips
« All articles