TikaWeeks #50/2017: Sri Lanka update
Posted by John on 17th December 2017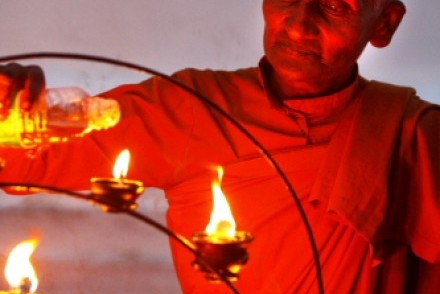 Public, Bank and Mercantile Holidays in Sri Lanka
In 2018, Sri Lanka has no less than 24 ascribed days of holiday nationally, which makes our paltry eight Public Holidays seem rather parsimonious of the British government! Sri Lanka is a melting pot of cultures and how better to celebrate the country's potpourri of traditions than to embrace all of the festivals and religious holidays. The Poya (full moon) day is a monthly Buddhist ritual but Hindu, Muslim and Christian customs are also practised with alacrity on the island, including Tamil Thai Pongal Day, Milad-Un-Nabi (Holy Prophet's birthday) and Christmas Day, respectively. National Day (04 February), Sinhala & Tamil New Year Day (14 April), and May Day (01 May) contribute to the bounty of holidays in Sri Lanka as well. Please be aware that most shops, all government offices and some cultural sites are closed on Poya days and religious holidays. In addition, alcohol is not served in most hotels, restaurants and bars, and cannot be purchased at liquor stores or supermarkets on Poya days and religious holidays.
In keeping with our traditions, the Tikalanka office will be closed in between Christmas and New Year so this is the last blog of 2017. In the meantime, may we wish you all a fun-filled festive season and all of the best for 2018!
Sri Lanka's second airport doesn't 'take off'
You may be forgiven for not knowing that Sri Lanka has a second accredited international airport near Hambantota in the southeast corner of the island called Mattala Rajapakse International Airport. Since it opened in 2013 after investment of over US$270 million (the majority from China), the airport has remained deserted to this day, servicing 50 to 75 passengers daily despite being built to accommodate a million passengers annually. So what was Sri Lanka thinking? According to Forbes magazine, the story of how this airport rose and fell is a dive into a quagmire of national politics, geopolitical manoeuvring, raw corruption, and the hunger of China to invest in massive infrastructure projects along what has subsequently been dubbed the 21st Century Maritime Silk Road. The article, The Story Behind The World's Emptiest International Airport, is pretty grim but absorbing reading, particularly if you are interested in better understanding the machinations of government in Sri Lanka and its reliance on China's financial largesse. To all intents and purposes, Bandaranaike International Airport at Katunayake near Negombo and north of Colombo is the island's only international airport.
New accommodation to Tikalanka
Villa Saffron is located near Hikkaduwa, an established backpacker centre and consequently of limited interest, until now... This 5-bedroom, Anjalendran-designed beachside villa is a real gem and worth a look if you like the idea of the local coral gardens or full moon parties!
The Planter's Bungalow, which is located in the lower tea plantations of Ella Gap towards Wellawaya, is a late 19th century tea estate bungalow surrounded by attractive landscaped gardens. The extensive grounds also include a newly-built swimming pool.
Destinations: The Holiday & Travel Show, Olympia, London, 01-04 February 2018
Discover your next adventure at Destinations: The Holiday & Travel Show, in association with The Times and The Sunday Times, the UK's biggest event for travel inspiration taking place at Olympia London from 01 to 04 February 2018.
Get your complimentary e-ticket to the Destinations Show, Olympia London, courtesy of Tikalanka quoting DST41 here

As well as invaluable and inspirational travel advice on offer, Destinations: The Holiday & Travel Show brings together travel's very best authors, TV presenters, photographers and internationally renowned musicians and performers. Your complimentary ticket includes free entry to:
Come and meet Tikalanka at Destinations: The Holiday & Travel Show at Olympia London on stand AP38. Quote DST41 here to claim your free e-ticket!
News round-up
Large pods of Sperm Whales filmed off Sri Lanka's coast on BBC's "Blue Planet II"
Further restriction on jeeps allowed into Yala West National Park
Beware when rescuing baby elephants in Sri Lanka!
India and Sri Lanka players sick in smog-hit Test match in Delhi
Categories: Accommodation, Cricket, Culture, Destinations Show, News, Sightseeing, Sri Lanka, Travel tips, Wildlife
« All articles