TikaWeeks #48/2017: Sri Lanka update
Posted by John on 2nd December 2017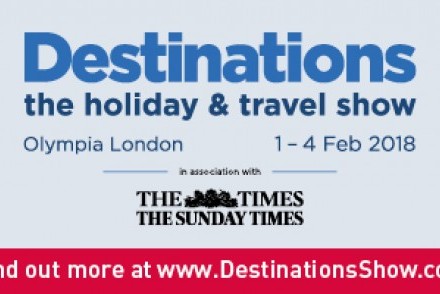 Destinations: The Holiday & Travel Show, Olympia, London, 01-04 February 2018
Discover your next adventure at Destinations: The Holiday & Travel Show, in association with The Times and The Sunday Times, the UK's biggest event for travel inspiration taking place at Olympia London from 01 to 04 February 2018.
Get your complimentary e-ticket to the Destinations Show, Olympia London, courtesy of Tikalanka quoting DST41 here

As well as invaluable and inspirational travel advice on offer, Destinations: The Holiday & Travel Show brings together travel's very best authors, TV presenters, photographers and internationally renowned musicians and performers. Your complimentary ticket includes free entry to:
Come and meet Tikalanka at Destinations: The Holiday & Travel Show at Olympia London on stand AP38. Quote DST41 here to claim your free e-ticket!
'Overtourism' and how to avoid it
It is axiomatic that the more popular a destination becomes, the more crowded it gets, particularly during the main holiday seasons. 'Overtourism' describes destinations where hosts or guests, locals or visitors, feel that there are too many visitors and that the quality of life in the area or the quality of the experience has deteriorated unacceptably. It is the opposite of Responsible Tourism which is about using tourism to make better places to live in and better places to visit. This issue was aptly discussed by Justin Francis, CEO Responsible Travel, in a recent article.
Tikalanka, like other mindful travel companies, is researching and promoting ways of avoiding this recent phenomenon. Firstly, we only arrange holidays for individuals, couples, families or small friendship groups, which means we are able to stay in smaller hotels and offer locally-run guesthouses and homestays that tour groups do not frequent. Secondly, we are able to get off the beaten track with our local knowledge and small group sizes, ensuring that you experience all facets of the country and get away from the crowds. Thirdly, we are pioneering new frontiers in Sri Lanka to enable our customers to explore unvisited or seldom visited regions of the island. Finally, we are promoting out of season travel, as I touched on in last week's blog. With the whole island now freely accessible and the monsoons unpredictable, travelling in the 'off' season is an opportunity to visit at a much quieter time at a cheaper price as well as experience seasonal festivals and other wildlife reserves.
Camera drones
Camera drones are changing the way we view the world around us and their relative cheapness has allowed them to become ubiquitous in a short period of time. Holiday snaps and videos will never be the same again but please be very careful about using a camera drone in Sri Lanka as you require official permission from the Civil Aviation Authority of Sri Lanka. Following the cessation of nearly three decades of civil war on the island in 2009, the military is still sensitive about security and any infraction may have dire consequences. If you intend to use a camera drone in Sri Lanka, please read the information here and obtain the requisite approval.
Dengue fever
There are two peak seasons of dengue fever in Sri Lanka: October to December (northern and eastern regions) and May to July (southern and western regions), which coincide with the monsoons. Please click here for more information. To our knowledge, none of our customers so far have contracted dengue fever whilst travelling with us regardless of which time of year they travelled. To protect yourself from being bitten, covering up is the best policy and using an effective insect repellent.
Adam's Peak pilgrimage season
"It's a pilgrimage, not a joyride." Ven. Dharmapala Seelananda, trustee of Sri Pada Mountain (The Sacred Footprint of Sri Lanka).
The pilgrimage season to ascend Adam's Peak (Sri Pada) runs from Unduwap poya (03 December 2017) to Wesak poya (29 April 2018), reaching its peak during January and February. At this time, there is a constant stream of pilgrims and the top can get very crowded. In fact, you may not even manage to reach the peak due to the vast crowds ascending!
The climb is also possible in the off season. However, since the path is not lit in the off season you will need a torch at night. It often rains here in the afternoon, especially in the off season. At other times the temple on the summit is unused, and between May and October the peak is obscured by cloud for much of the time.
Categories: Culture, Destinations Show, Health, News, Sightseeing, Sri Lanka
« All articles