TikaWeeks #46/2017: Sri Lanka update
Posted by John on 19th November 2017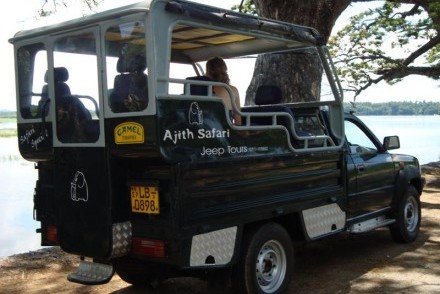 World Travel Market 2017, London
The World Travel Market is the annual travel industry fair at ExCeL in London's docklands and we always participate as visitors to see our business colleagues from Sri Lanka. All of the major hoteliers and tour operators participate on the Sri Lanka stand so it is a very good opportunity for us to catch up with current news and hear about future developments and trends in the island's burgeoning tourism sector. It is always a great pleasure to meet up with old friends and associates who we have got to know very well over the past 15 years, including Champika De Silva (Anantara Resorts), Anuruddha Bandara (Eco Team), Eleanor Milner (The Sri Lanka Collection), Tim Jacobson (Manor House Concepts), George Cooper (Kahanda Kanda & KK Beach), Jo Jameel (Teardrop Hotels), Dulashinee Karunaratne (Jetwing Hotels), Bazeer Uvais and Nadeem Lebbe (Tangerine Hotels), Prasanjit Perera, Tikiri Ellepola and Indika Abeykoon (Aitken Spence Hotels) and Malik Fernando (Resplendent Ceylon). I also make a beeline for my old friend, Sai Mahendran, at the SriLankan Airlines stand, who was incredibly supportive of us when we had a direct contract with the airline and there used to be a London sales office, which was centralised to Colombo in 2011 – a real shame and a colossal mistake, in my opinion. Also there is Siva Aravindan, our first ever contact at SriLankan back in 2003, who is now with Ethiopian Airlines. Bump into Sam and Nick Clark of Experience Travel, competitors of ours but friends nonetheless, for whom we have a mutual respect and a fruitful exchange of ideas over the years. All in all, a productive day and definitely worth the journey south from The Lakes.
Special offers for travel before Christmas
It is the time of year when hotels in Sri Lanka have last-minute offers for stays before Christmas and discounts can be significant. Accommodation currently offering deals include Living Heritage Koslanda and Uga Ulagalla. Please contact us for more details.
Ayurveda in Sri Lanka
You most likely will be offered an 'Ayurvedic massage' at some stage on your travels around Sri Lanka. Ayurveda is an ancient system of medicine originating in India where medical knowledge was transmitted from the Gods to sages and then to human physicians according to classical texts. Ayurvedic therapies have varied and evolved over more than two millennia, and are typically based on complex herbal compounds, minerals and metal substances. Ancient Ayurveda texts also taught surgical techniques and the extraction of foreign objects. Seen as complementary or alternative medicine in the West, it is followed by a significant section of the Sri Lankan population and Ayurveda clinics and dispensaries may be found in most towns around the island. 'Ayurveda tourism' is popular in some countries, Germany in particular, and 2-, 3- or 4-week plus treatment regimens are not uncommon in specialist Ayurveda resorts in Sri Lanka following consultations with qualified Ayurveda physicians. Although there is no evidence that any Ayurveda treatments are effective as practised currently, there are many enthusiastic adherents who believe in the healing powers of Ayurveda. However, an hour's massage and a quick oil treatment is not authentic Ayurveda by any means, and products sold at these outlets as well as in spice gardens are massively over-priced and may contain harmful additives.
Jeeps in Yala restricted to 300 per day
Since Yala West National Park reopened at the end of October after a two-month closure due to a severe drought, the number of safari jeeps accessing the park has been restricted to 300 per day – although this seems to have been increased to 600 per day after local political intervention. This was introduced after consultation with the Wildlife and Tourism authorities as Yala was severely overcrowded. There also were numerous incidents recorded of unrestrained safari jeeps playing mayhem in the park as jeep drivers followed their own jungle law within the sanctuary. The country's tourism authorities state that the new regulation is aimed at ensuring discipline, order and sustainability at Yala and are of the view that the move will help tourism in the long-run and also protect the fauna and flora in the park. However, safari jeep operators claim that tourism will suffer due to the new regulation. While the move is commendable, the tourism authorities are yet to carry out a proper study into the recreational carrying capacity of Yala and take necessary regulatory actions to preserve this invaluable national resource for future generations. Over a half a million tourists visited Yala West National Park in 2015.
From the archive: Jaffna & Northern Province – John & Pathi, October 2014
When you receive permission to travel on the A9 road north of Omantai, the island's last remaining security checkpoint and a vestige of the civil war – no longer in operation and permission to travel unnecessary any longer – the flatlands of Northern Province open out in front of you as you make surprisingly speedy progress along one of the country's newly refurbished arteries.
Sri Lanka has the reputation of agonisingly slow and arduous road journeys 'spiced up' by the devil-may-care antics of the manic bus drivers. However, the recent investment in the road and rail networks has transformed many of the major routes, which has shortened travel times dramatically and improved journey comfort considerably. The only downside of heading north at the current time is the government's requirement for all foreign visitors to obtain prior approval from the Ministry of Defence, which is straightforward and swift if you have a fax machine handy!
Although not possessing the most attractive landscape on the island, Northern Province has recovered well from the ravages of the civil war and, in the past two years since I last visited the area, much of the vegetation has regrown and an extensive construction programme has transformed many of the towns and villages. Driving across the infamous causeway of Elephant Pass onto the Jaffna Peninsula is no longer such a poignant experience as one of the civil war's bloodiest battlegrounds is now surrounded by tranquil waters inhabited by a growing number of migrant birds rather than the grotesque relics of armed conflict.
Once in Jaffna you appreciate immediately that you have arrived in a different land with Tamil script adorning highly-decorated advertising hoardings and shop fronts while the unmistakable high-pitched ululations of Hindi songstresses resound in streets filled with scooters and bicycles dodging the sacred Brahman cows meandering unpredictably to forage amongst the abundant litter, unimpeded, anew.
Jaffna is home to the Nallur Kandaswamy Kovil, one of the island's most holy Hindu temples and the focus of a spectacular annual festival climaxing with parades of juggernaut floats and gruesome displays of self-mutilation by entranced devotees. The temple is the most impressive religious building in the city and it has cacophonic puja ceremonies (blessings) daily. The ascetic influence of this Murugan shrine emanates further afield as vegetarianism and temperance abound within a prescribed area surrounding the temple. In fact, in keeping with Hindu tradition, much of the city's population is herbivore and tee-total, although wine (liquor) shops exist and hotels outside of proscribed religious zones serve alcohol.
Within the city are the reconstructed library, once a repository of world-renowned and historic Tamil texts, and the fort, a disappointing edifice of dubious significance undergoing an ill-conceived restoration programme. Further afield and accessed by ferries are the islands of Nainativu (Nagadipa), site of important Hindu and Buddhist temples, and windswept Neduntivu (Delft), home to wild horses of Dutch origin.
All in all, Jaffna is not a city of many 'must see' sites and, as a tourist destination, it is still a work in progress, awaiting the development of quality accommodation and interesting places to eat. The real appeal of the area at the present time is the ethereal nature of its environs and the innocence of its people, a testament to the powers of fortitude and resilience in the face of adversity.
News round-up
New glimpse into the kingdom of whales from the air from November 2017
SriLankan Airlines launches daily non-stop flights to Melbourne
Taste family-style Sri Lankan cooking and street food in London before you visit
Annual Kathina 'robe' ceremony honoured throughout Sri Lanka on 28 October 2017
Remember to apply for an ETA visa before you visit Sri Lanka
Categories: Accommodation, Culture, Flights, News, Sri Lanka, Wildlife
« All articles