TikaWeeks #29/2018: Sri Lanka update
Posted by John on 22nd July 2018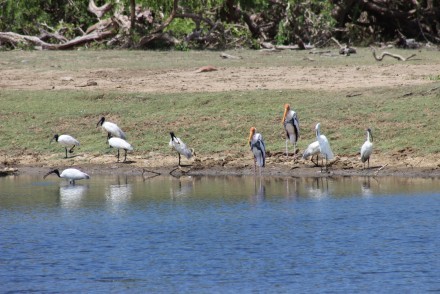 10 good reasons to visit Sri Lanka
Sun – and warmth! Sri Lanka is a sun-drenched tropical island with an average daytime temperature of 28°C at the coast, which is also incredibly the temperature of the surrounding Indian Ocean!
Wildlife. With 86 species of mammals (including elephants and leopards), more than 400 bird species (including 26 endemics), and 14 National Parks (out of 100 areas protected by the government), Sri Lanka is a wildlife enthusiast's paradise.
Beaches. Sri Lanka's 1600km of Indian Ocean coastline boasts beautiful palm-fringed and sandy tropical beaches ideal for relaxing, water sports, diving and snorkelling.
Ancient sites. Sigiriya, Polonnaruwa, Anuradhapura, Dambulla... with nine World Heritage Sites (the oldest dating back to the 3rd century BC), Sri Lanka is a culturally rich country of ancient sites, colourful festivals, and an enduring traditional way of life.
Hospitality. Ayubowan – "may you have the gift of a long life" – is the traditional greeting amongst the Sinhalese and is the foundation to the generous hospitality of the ever smiling Sri Lankans.
Food. Famed as a spice island for centuries, Sri Lanka's culinary variety of exotic flavours combined with a natural abundance of quality fish, seafood, fruit and vegetables is an Epicurean delight!
Scenery. Sri Lanka offers the discerning traveller a diversity of scenery and habitats seldom seen in other countries, from the island's palm-fringed tropical beaches right up to its verdant and enigmatic Hill Country.
Accommodation. From family-run guesthouses to exclusive walauwas (mansion villas), Sri Lanka has very special places to stay including boutique hotels, former tea planters' bungalows and clubs, colonial-era residences, sumptuous suites and villas, and traditional cabanas and tree houses.
People. The ever smiling Sri Lankans are warm and generous hosts and will add another dimension to your holiday, as the island is a vibrant and colourful melting pot of cultures, traditions and religions.
Variety. It is difficult to imagine a more diverse country than Sri Lanka, which is why Marco Polo famously described it as "undoubtedly the finest island of its size in the world".
Peoples of Sri Lanka – #4 Muslims, Moors and Malays
Origins and culture
Arab traders first visited Sri Lanka many millennia ago. By 1000 BC the pearl divers of Mantota (Mannar) were Arabs and Persians, and the pearl necklace that adorned the neck of the Queen of Sheba is said to have come from here. In the time of the ancient Sinhalese kings, Anuradhapura had an Arab street where stallions were traded for spices. However, the main influx of Arabs arrived after the rise of Islam, and large settlements grew around Jaffna and all the way along the western coast to Galle. The Muslims had a virtual monopoly on trade on the island until the Portuguese arrived. The Muslims sought protection from the King of Kandy, who hid them in places such as Gampola, Mawanella, Welimada and Akuressa.
The British, busily classifying everything and everyone, put the Moors, Tamil speaking Muslims of Indian-Arab descent, in a separate category from the later Muslim arrivals, the Malays and the Indian Muslims. The Malays are descended from Malay regiments brought over by the Dutch, while the Indian Muslims (Bohras and Memons – a distinct Indian Shia sect hailing mainly from the Kutch in northern Gujarat) were brought over by the British themselves. Today's Muslim community, who are the only community on the island to claim an identity based on their religion alone, constitutes 7% of the population, 95% of which are Moors.
Islam in Sri Lanka
Islam was brought to Sri Lanka by Arab traders. Long before the followers of the Prophet Mohammad spread the new religion of Islam Arabs had been trading across the Indian Ocean with southwest India, Maldives, Sri Lanka and South East Asia. When the Arab world became Muslim so the newly-converted Arab traders brought Islam with them, and existing communities of Arab origin adopted the new faith. However, numbers were also swelled by conversions from both Buddhists and Hindus, and by immigrant Muslims from south India who fled the Portuguese along the west coast of India.
The great majority of the present day Muslim population of Sri Lanka is Tamil speaking, although there are also Muslims of Malay origin who speak a créole with a strong Malaysian influence. Both in Kandy and in the coastal districts Muslims have generally lived side by side with Buddhists, often sharing common interests against colonial powers. However, one of the means by which Muslims maintained their identity was to refuse to be drawn into colonial education. As a result, by the end of the 19th Century the Muslims were among the least educated groups. A Muslim lawyer, Siddi Lebbe, helped to change attitudes and encourage participation by Muslims.
In 1915 there were major Sinhalese-Muslim riots, and Muslims began a period of active collaboration with the British, joining other minorities led by the Tamils in the search for security and protection of their rights against the Sinhalese. The Muslims have been particularly anxious to maintain Muslim family law, and to gain concessions on education. One of these is the teaching of Arabic in government schools to Muslim children. Until 1974, Muslims were unique among minorities in having the right to choose which of three languages - Sinhala, Tamil or English - would be their medium of instruction. Since then a new category of Muslim schools has been set up, allowing them to distance themselves from the Tamil Hindu community, whose language most of them speak.
Where to stay near… Yala
Kulu Safaris is the pioneer of tailor-made, mobile safaris in Sri Lanka and offers the opportunity "to live, feel, smell and hear the jungle in its purist form". It is the first operator to establish the practice of environmentally conscious camping and has adopted a strict 'no-plastic' policy, uses renewable energy to as great an extent as possible, and has implemented an eco-friendly waste-management system.
Taru Villas – Yodakandiya is a chic oasis in the jungle set in a small local village surrounded by traditional Chena farms and immersed in a garden redolent with bird calls and resident peacocks performing their courting displays. The two-bedroom villa has open-plan living areas, King-size beds, overhead fans and air conditioning, pool, and free Wi-Fi (for those who struggle to "disconnect from the grid"!).
Uga Chena Huts is a luxury boutique hotel nestling amongst dunes and trees at the ocean's edge. Overlooking a beach where sea-turtles come to lay eggs by moonlight and elephants wander down from the nearby jungle to play in the surf, Uga Chena Huts is fringed by tropical jungle and a saline lake where ibises and painted storks may be seen, wading in the shallows. Cabins with Pool come with all-inclusive accommodation.
Categories: Accommodation, Culture, Honeymoon, News, Sightseeing, Sri Lanka, Travel tips, Weather, Wildlife
« All articles