TikaWeeks #25/2021: Sri Lanka update
Posted by John on 25th June 2021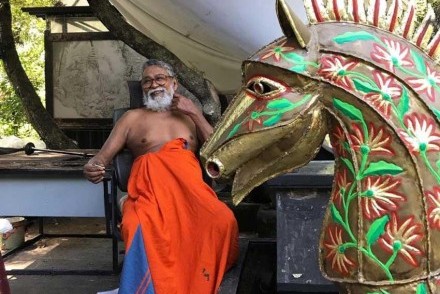 Our latest news round-up includes the passing of one of Sri Lanka's greatest artists, the environmental disaster that has affected the island in the past month, and a change to the UK government's country travel listing. Hopefully there will be some positive news again soon…
Laki Senanayake
The inimitable Laki Senanayake, artist, sculptor, gardener and inventor, passed away on 30 May 2021 at the age of 84.
Possibly best known for his collaborations with the late and great master architect Geoffrey Bawa, Laki was a renowned artist of his own, a unique force of nature and the last guardian of Sri Lanka's 1950s bohemian culture.
Many of his sculptures are still visible today in hotels across the island, including Heritance Kandalama at Dambulla and Jetwing Lighthouse in Galle, and as the centrepiece of the country's Parliament building, although his talents extended to commissions for Sri Lanka's currency bank notes in the late 1970s as well as the development of his own stunning jungle estate of over 50 years at Diyabubula near Dambulla.
An in-depth eulogy is well worth a read if you are interested in the life of a huge talent and a very modest man who saw himself "not as an artist but as a person who makes handicrafts". This coming from a person intimately associated with Sri Lanka's cultural trailblazers of the 20th Century, including the likes of landscape designer Bevis Bawa, fabric designers Ena de Silva and Barbara Sansoni, and writers such as Reggie Siriwardena and Senator R Nadesan.
Fears of an environmental disaster in Sri Lanka
A chemical-laden cargo ship is sinking off the coast of Sri Lanka, sparking fears of an environmental disaster. It is believed that a fire which had been ablaze for almost two weeks until being extinguished in early June was caused by a nitric acid leak that the crew had been aware of since 11 May 2021. The ship was carrying 25 tonnes of the highly corrosive acid, which can be used in the manufacture of fertilisers and explosives, as well as hundreds of tonnes of oil from fuel tanks potentially leaking into the sea, devastating nearby marine life. Recent reports of dead sea turtles and dolphins washing up on Sri Lanka's west coast beaches confirms fears of a national environmental catastrophe.
Sri Lanka on UK government's travel Red list
Sri Lanka was added to the travel Red list by the UK government on 08 June 2021. This means that the Foreign, Commonwealth and Development Office now advises against all but essential travel to the whole of Sri Lanka based on the current assessment of COVID-19 risks.
Categories: Culture, News, Sri Lanka, Travel tips
« All articles