TikaWeeks #20/2018: Sri Lanka update
Posted by John on 20th May 2018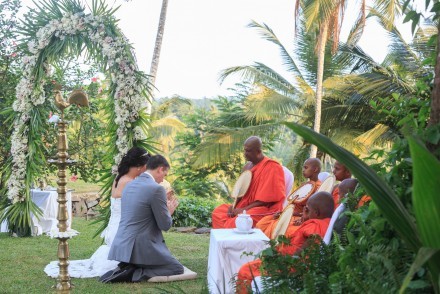 A Royal wedding – Sri Lanka style
Many Buddhist Sinhalese marriages in Sri Lanka are arranged, either by the immediate family or a matchmaker. Although not a caste-based culture, the Sinhalese still consider social status, family background, profession and personal wealth important factors when choosing a spouse for their loved ones. Matchmaking can be a very protracted process, sometimes taking many months or even years to find the right person. This may involve countless meetings and conversations between prospective brides and grooms and their family entourages.
The Sinhalese take their superstitions very seriously. Marriages, births and any major social event are planned with great consideration to the advice of astrologers and gurus, backed up by the whole pantheon of Hindu gods and a lower order of demonic beings. Astrologists prescribe the specific types of rituals and chart auspicious occasions right down to days and times.
Once an auspicious hour, day and month are carefully chosen, the wedding event may be organised, and what an event it is – with upwards of a thousand guests not uncommon, the wedding is fit for royalty. In fact, many couples wear the regalia of the erstwhile Kandyan kings and queens for the occasion, a respectful nod to the country's last Sinhalese monarchs.
The traditional Sinhalese wedding service is the Poruwa ceremony, which takes place on a Poruwa, a highly decorative wooden platform or dais. The ceremony involves a series of arcane rituals performed by the bride and groom, and their respective families.
The groom and his relatives assemble on the right of the Poruwa and the bride's family gathers at the left. The bride and groom enter the Poruwa leading with the right foot first. They greet each other with palms held together in the traditional manner. The celebrant then presents betel leaves to the couple which they accept and hand back to him to be placed on the Poruwa.
The bride's father places the right hand of the bride on that of the groom as a symbolic gesture of handing over the bride to the groom. The groom's brother hands over a tray with seven sheaves of betel leaves with a coin placed in each. The groom holds the tray while the bride takes one leaf at a time and drops it on the Poruwa. The groom then repeats this process. The groom's brother hands a gold necklace to the groom who in turn places it on the bride's neck. The maternal uncle enters the Poruwa and ties the small fingers of the bride and groom with a single gold thread (to symbolise unity) and then pours water over the fingers. Six girls will then bless the marriage with a traditional Buddhist chant (Jayamangala Gatha). The groom presents to his bride a white cloth which in turn is presented to the bride's mother. This is an expression of the groom's gratitude to his mother-in-law.
The bride's mother will then present a plate of milk rice (Kiri bath) specially cooked for the occasion to the bride who feeds a piece to the groom. The groom then feeds the bride. As the newly married couple steps down from the Poruwa, the groom's family member breaks a fresh coconut.
The Poruwa ceremony appears to have existed in Sri Lanka before the introduction of Buddhism in the 3rd Century BC. It was a valid custom as a registered marriage until the British colonists introduced the registration of marriages by Law in 1870. Today's Poruwa ceremony has been influenced by both upcountry (Hill Country) and low country (southern region) customs of Sri Lanka.
Getting married in Sri Lanka
The perfect backdrop to celebrate your special day – a wedding in Sri Lanka. Tikalanka will be delighted to help organise your wedding in Sri Lanka, from arranging the registrar and official paperwork to advising on location and local customs, and then there is the honeymoon…
Maybe you would like a traditional Sri Lankan ceremony performed on a special, decorative marriage dais (Poruwa), be dressed in the exotic ceremonial attire of ancient Kandyan royalty, be blessed by the Jayamangala Gatha (traditional wedding song) sung by a chorus of handmaidens, and celebrate with dancers and beating drums…
Or exchange vows in a hot air balloon at dawn as you gently drift over the picturesque Sri Lankan countryside around Sigiriya's Lion Rock...
Tikalanka specialises in bespoke tailor-made weddings so all arrangements will be made to your own specifications and requirements. Please contact us to discuss your wedding ideas in more detail.
To help you plan for your exotic 'Big Day', here is some background information on wedding ceremonies in Sri Lanka (for your guidance only):
The wedding ceremony is legally binding in Sri Lanka
Minimum residency period in Sri Lanka is 4 days prior to the wedding ceremony
All documents (see below) are required 12 weeks in advance
Birth Certificates (both short and long certificates are acceptable)
Passports of bride and groom valid for a minimum of six months
A single status affidavit (to be prepared prior to travel)
If divorced - legal documentation (divorce certificates)
If widowed - former marriage certificate and death certificate
If name has been changed - deed poll certificate (includes reverting back to maiden name after being married and divorced)
If either party has been adopted - adoption papers
If under 21 years of age - parental consent in the form of an affidavit stamped by a notary (if your wedding is in Sri Lanka)
"We are just incredibly pleased that we chose Sri Lanka and Tikalanka for our wedding holiday. THANK YOU TIKALANKA – keep doing what you do – it is superb." Gemma & Stephen, England
A Day in the Life of Sri Lanka – #3 Chewing betel
Five hundred million people chew betel across Asia as 'betel quid' or in 'paan'. The recipe for the mixture might vary a great deal between individuals, but the basic ingredients are always the same. It contains an aromatic essential oil with a burning taste. The leaves are given a coating of slaked lime before being rolled round a crushed betel nut, containing the tannins that turn saliva and teeth red, with Areca nut and/or tobacco. Chewing betel acts as a tonic, an antiseptic, a purifier, and refreshes the breath. However, today it has lost its traditional value as a token hospitality during ceremonies and has less of a following amongst the younger generation.
In Sri Lanka and India, a sheaf of betel leaves is traditionally offered as a mark of respect and auspicious beginnings. When greeting elders at wedding ceremonies, celebrating New Year, offering payment to Ayurvedic physicians and astrologers, money and/or Areca nut are usually laid on top of a sheaf of betel leaves and offered to the beneficiaries for their blessings.
Betel (Piper betle) is the leaf or fruit of a vine belonging to the Piperaceae family, which includes pepper and kava. The betel plant is an evergreen perennial, with glossy heart-shaped leaves and white catkin, which originated in South and South East Asia.
Where to stay in… Tangalle
Buckingham Place is nestled between a deserted Indian Ocean beach and a lagoon close to the fisher and farmer village of Rekawa. The stunning beach – a treasured eco-gem – provides safe nesting for up to five species of sea turtle, while in the other direction, magnificent birdlife is amply protected by lagoon mangroves. Expect something different. Contemporary and stylish in design but not sterile or soulless, this out of the ordinary, out of the way place to stay lacks only the madding crowds and a rapid laundry service!
Palm Paradise Cabanas & Villas is a popular and well-established beach resort immersed in a palm grove behind a secluded and attractive sandy bay at Goyambokka. The original wooden cabanas and newer villas are scattered around the estate, with its sheltering palm trees, exotic tropical birds and wildlife, ocean breezes, swimming pool, and pristine, crescent-shaped beach. It is an ideal retreat for quietude and relaxation, a peaceful haven to get away from it all, but with free Wi-Fi to keep in contact, if you wish!
Turtle Bay offers a luxury beachside stay in an environmentally and socially sustainable way. The origins of the hotel lie in its environment – the nesting grounds of various marine turtle species on a deserted south coast beach near Rekawa. This intimate hotel is designed for modern tropical living yet informal to make you feel at home. The service is discreet and intuitive to let you relax in the tranquillity of the location, which is also adjacent to Kalametiya Sanctuary, a protected haven for aquatic birdlife.
Categories: Accommodation, Culture, Honeymoon, Sri Lanka, Travel tips
« All articles