TikaWeeks #19/2018: Sri Lanka update
Posted by John on 13th May 2018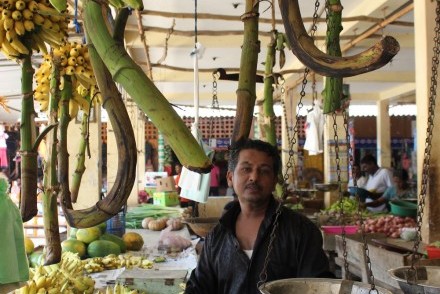 To tip, or not to tip: that is the question
Similar to India just 26km across the vestigial 'stepping stones' of Adam's Bridge from the north-western tip of Mannar Island, obtaining gratuities and commissions is a way of life in Sri Lanka. Having said that, many of the staff in the tourist trade do not get a realistic wage and have to rely on tips, or a share of the service charge, for their basic income. Although a 10% service charge is added to room rates and meals at virtually all hotels, guesthouses and restaurants, much of this is absorbed by the establishment and does not get fairly distributed amongst the staff.
Obviously, it is totally up to you as to who, when and how much you tip. However, tipping seems to be the most controversial aspect of travelling for many customers, whether it is the actual act of tipping or how much and when to tip.
There is no hard and fast rule to tipping and generally you have to feel your way if you are not an experienced traveller to the Indian subcontinent. Opening a door, giving directions or suggesting a restaurant (probably a family or friend's establishment!) are hardly a reason to tip but sometimes it may be attempted by an expectant beneficiary. On my first travels to the island, the public convenience attendants at the international airport would helpfully turn on the tap for you and provide a paper towel to dry your hands before blatantly requesting a tip! Thankfully, this 'charitable' act no longer occurs although other, more sophisticated ruses may be used.
By definition, a gratuity is a gift of money, over and above payment due for service, an extra sum given without claim or demand. If the true meaning is kept in mind when deliberating on tipping then it may relieve the associated stress and pressure of when to tip. However, this doesn't help with how much to give without inadvertently causing offence. When a customer books a holiday with us, we offer advice on a suggested tipping regime in Sri Lanka, but, again, it is only guidance and the final choice is always yours, of course!
As a rule, it is best to tip your chauffeur guide at the end of the holiday, and leave a general tip at reception of a hotel or guesthouse when you leave, if you believe that the tip will be shared equitably. Otherwise, ensure that you personally hand tips to deserving staff members. Jeep safari drivers and rangers are another case in point. The compulsory rangers required on jeep safaris in all national parks vary greatly in knowledge and standard of spoken English, although the latter shouldn't matter since your chauffeur guide will most likely accompany you on the jeep safari. Only offer a tip to the ranger if they have contributed to the safari. Jeep drivers will expect a tip, particularly if they have 'found' you a leopard, sloth bear or another animal on your wish list.
Don't despair, if you are unsure about tipping in Sri Lanka, firstly ask you chauffeur guide for help and, if still uncertain, keep calm and go with your gut reaction – it's your holiday after all and not the end of the world!
Touts and conmen
Touts frequent all main towns but are most prevalent around temples, train and bus stations, tourist sites, and outside hotels. Their friendly over-helpfulness is designed to make you feel obliged to part with your money. They come up with a convincing act, such as 'the student' who is supporting a sick mother and three siblings. Another brand of tout has an identity card saying he is collecting for charity. They usually have a plausible tale but are nothing more than conmen. Be polite, but firm, when refusing to give a 'donation'. If you want to give a donation, then it is better to contribute to organised projects with bona fide credentials.
Be especially careful of the more aggressive 'walking guides' in tourist areas such as Kandy, Galle, Polonnaruwa and Sigiriya. While you are with your dedicated Tikalanka chauffeur guide these 'walking guides' will approach you and proceed to criticise your dedicated guide and attempt to cause an argument. Please ignore everything the 'walking guides' say since they are simply conmen trying to get your business. If possible, report them to the police immediately. Please be assured that Tikalanka only employs accredited Sri Lanka Tourist Board-licensed chauffeur guides who have your best interests at heart.
A Day in the Life of Sri Lanka – #2 The corner shop and Sunday market
Known as the kopi kade or te kade, these are grocery shops selling betel leaves to chew, tea and biscuits, coconut oil for cooking, and kerosene for lamps, since many villages are without electricity. Everything is bought in small quantities and what is more, everything can be bought on credit. The newspaper is the pivot of the village's social life. Bought at the kade, the customers go over the births, marriages and deaths columns with a fine toothcomb, or find subjects for debate such as politics and tax increases. When the news has been digested, the newspaper still serves as a tablecloth or as wrapping for tea leaves, sugar or 'short eats'.
The Sunday market, which generally takes place at the village crossroads, complements the kade. Among the vegetable stalls are others selling manufactured products essential to everyday life, like clothes, cooking utensils, mirrors and bars of soap.
Where to stay in… Passikudah
Passikudah – also Passekudah, Pasikuda or Pasikudah – is one of the island's most attractive beaches renowned for its clear, calm and shallow waters on the east coast, ideal for swimming and water sports during the season (May to September). The outer bay has an extensive coral reef and there are scattered coral communities within the bay, together forming one of the best-known reef systems in the Indian Ocean. Unfortunately, the reef has been badly damaged by the global bleaching effect, although restoration projects are ongoing.
Maalu Maalu Resort & Spa is conceived as a traditional Sri Lankan fishing village, or Waadiya, with the simple eco-friendly architecture being inspired by the wooden-clad dwellings of a typical fisherman's hut. The rooms and adjoining public areas are designed to seamlessly blend with the surrounding environment. Each chalet, with its 'cadjan' (thatched coconut palm leaf) roof, elegantly highlights the indigenous Sri Lankan culture; the modern amenities are subtly introduced, tastefully combining the old and the new.
Uga Bay delivers perfectly calibrated luxuries for those who need to kick-back and relax with the sand between their toes. The architecture is contemporary tropical fused with a Mediterranean theme set amidst swaying palms. Enjoy tropical island indulgences like sunset cocktails in infinity pools and top-to-toe treatments in luxury Ayurvedic spas. Local fishing boats bring in the fresh catch of the day for a delicious seafood feast, and internationally-trained chefs prepare world cuisine fused with local spices at beachside barbecues.
Anantaya Resort & Spa Pasikudah is a beachside resort ideal for families as it offers opulent two- and three-bedroom ocean view villas with large open sun decks and plunge pools. The resort also has luxury pool suites and superior/deluxe rooms, all with expansive balconies overlooking the Indian Ocean.
Categories: Accommodation, Culture, Sightseeing, Sri Lanka, Travel tips
« All articles