TikaWeeks #15/2018: Sri Lanka update
Posted by John on 15th April 2018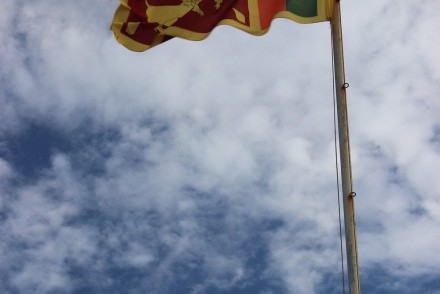 Sinhalese and Tamil New Year in Sri Lanka
The traditional New Year (Awurudu), common to Buddhists and Hindus, is now fixed on 14 April (rather than the full moon of Bak in former times) and can last for a week or more. This is a family festival, an occasion to exchange presents, eat festal dishes and play traditional games. Most people return to their home villages or towns for the occasion so pubic transport and the roads are very busy.
Awurudu is a time for new clothes, anointing ceremonies, offerings to temples and monks, and, of course, the Sri Lankans' principal passion – eating! Banquets fit for a king are prepared and shared with family and friends, with special dishes and meals selected for the occasion. Kiri bath (milk rice) plays an important part in the New Year celebrations and has a special place in Sri Lanka's panoply of culinary delights. A simple dish of solid rice pudding made with coconut milk and then cut into diamond shapes, it is central to festive offerings and other celebrations, including birthdays and anniversaries, during the wedding ceremony and afterwards at the banquet, and it is used as a votive offering at temples and during festivals.
Food in Sri Lanka – #7 A Vegetarian Delight
The vegetable stalls that line the roadside have a wonderful array of gourds, greens, garnishes and entirely unrecognisable vegetation, all an indication of how fertile and abundant the land can be in Sri Lanka. There are also many familiar vegetables, too, since the Hill Country, particularly around Nuwara Eliya, is an ideal region for growing potatoes, carrots, beetroot, leaks, cabbages, onions, salad leaves, tomatoes and many other daily staples introduced by trading partners and colonising peoples. Not to mention a kaleidoscope of recognisable flowering plants as well.
The vegetables are always fresh and when cooked in traditional Sinhalese dishes are extremely appetising. Much of the Tamil food, like thosai, ulundu vadai, marsala vadai, and idlis (savoury cakes of dhal and rice flour), also has a vegetarian leaning. There will also always be something for the vegetarian palate in any Muslim restaurant. Godumba roti, a translucent envelope stuffed with mildly spiced vegetables, can quickly be turned into kotta roti, by ripping it to shreds and stir-frying it with practically any ingredient of your choice, or flipping it into an egg goddamba. Mallung is a healthy melange of shredded green vegetables with herbs, spices and grated coconut.
While in Sri Lanka, you should try to sample some of the more unusual vegetarian curries such as Jak fruit – which has a deceptive texture but I will say no more! – Banana flower and cashew nut as well as manioc (cassava), which is an alternative to rice or bread, and 'short eats' (snacks) like parippu vadai (similar to falafel), ulundu vadai (savoury ring doughnuts), vegetarian pancake rolls, cutlets, patties, samosas and roti, and egg buns.
Where to stay in… Galle
41 Lighthouse Street is one of our favourite, special places to stay, not only in Galle but anywhere on the island. '41' is a sensitively renovated 17th century Dutch colonial-era villa retaining its heritage with huge open arches, exposed beams, and black and white chequered floors. This exclusive three-bedroom villa has a walled internal courtyard bedecked with lush tropical vegetation, including a magnificent centrepiece Frangipani tree, surrounding a crystal-clear swimming pool, terrace and traditional ambalama. The villa is serviced by full-time staff including the chef who will prepare all meals on request from fresh produce purchased from the local market.
Fort Bliss is our 'starter' accommodation in Galle, which is not a comment on its quality, simply its cost effectiveness! Located only a few metres from the famous ramparts, the comfortable four-bedroom hotel and townhouse is elegantly furnished and built in harmony with the original colonial Dutch architecture of the 17th century.
Fortaleza Boutique Hotels & Restaurant offers five historic places to stay as well as a popular courtyard restaurant. All of the properties are housed within the Fort and are renovated, original Dutch-colonial villas. My particular favourite is Fortaleza No. 50 Lighthouse Street, which is extremely spacious since it spans a full block of the Fort and the Garden Balcony Rooms are quite exquisite.
Categories: Accommodation, Culture, Honeymoon, Sri Lanka
« All articles