TikaWeeks #12/2023: Sri Lanka update
Posted by John on 23rd March 2023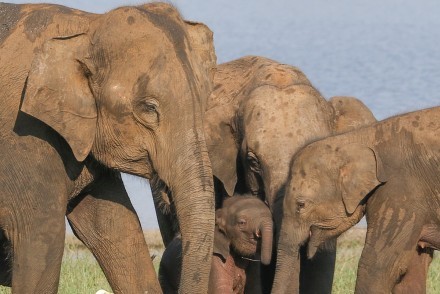 Rewilding is a relatively new endeavour in Sri Lanka, although some schemes have been active for years. Jetwing Vil Uyana began an ambitious project back in 2005, converting abandoned paddy fields into a wetland mosaic fed by irrigation channels from the surrounding farmland, and planting thousands of indigenous trees. Today it is enjoying the fruits of an enlightened and welcome rewilding initiative.
Sri Lanka's return to the wild
Sri Lanka is blessed with an abundance of wildlife, not only within the numerous and outstanding national parks, but following you around the island as you go. This environmentally diverse country boasts 86 species of mammals, including leopards, elephants and sloth bears, and more than 400 bird species, 26 of which are endemic. It is also surrounded by the Indian Ocean alive with mighty blue, sperm and humpback whales as well as large pods of dolphins.
However, habitat depletion has affected significant populations of the island's wildlife, ominously the mighty and sacred Asian Elephant, which has also heightened the conflict with local farming communities. This makes the burgeoning rewilding projects even more crucial to the long-term welfare and existence of Sri Lanka's exotic animals, trees and plants.
One such project has been developed in the Cultural Triangle at Jetwing Vil Uyana. Located in the centre of Sri Lanka, just 15 minutes from the celebrated UNESCO World Heritage Site of Sigiriya, this eco-resort has undertaken an ambitious rewilding project, converting abandoned paddy fields into a wetland mosaic fed by irrigation channels from the surrounding farmland, and planting thousands of indigenous trees. This suite of naturally regenerating habitats has produced prolific biodiversity across its modest 24 acres. A 2005 baseline survey revealed 12 species of mammal, three of reptile and amphibian, and 29 of bird. Since rewilding, these figures have now risen to an amazing 27, 44 and 157 respectively.
Mike Unwin, visiting on behalf of Wanderlust magazine, spent a week in and around Jetwing Vil Uyana and has contributed an excellent article in the latest issue of the magazine on Sri Lanka's return to the wild
This 14.7 km stage, which is generally considered a moderately challenging route, takes around 5 hours from start to finish and may be divided into two distinct parts: Galaha to Deltota and Deltota to Loolecondera.
Galaha to Deltota is a very short and rewarding hike. Starting at an elevation of 802 m, the trail follows the main road for about a kilometre before heading into the Deltota Estate. Locals may tell you the route to Deltota or Loolecondera is the main road. Do not take their advice as there is absolutely no need to walk on the main road – the path through the Deltota Estate is beautiful.
Ascending a steep section of the path, do look back at the stunning views of the Hanthana Estate and the mountains beyond. The path on this stretch is wide and very easy to follow. After 4.6 km, the route crosses a bridge and continues into Deltota, which is a typical Hill Country town with a lively market as well as a rather striking green mosque.
Deltota to Loolecondera is much longer and more challenging. On leaving the town, there is another steep stretch before following an established trail through an old pine forest for about 2.5 km. This section is quite overgrown and you may encounter leeches. At the 8.3 km point, the trail joins an old tea estate road and then zig-zags all the way up the mountain. With gaining elevation the views get better and better and the path is wide and easy to follow.
After 9.7 km, there is an abandoned village where you cross a small river and continue along the trail before entering the higher divisions of the Loolecondera Estate, which is the highest point of this stage at 1402 m with spectacular panoramic views. Founded by James Taylor in 1867, the fertile soil of the area gave birth to the first tea plants in Sri Lanka and his original cottage is a short walk up the track.
From here, it's a slow and easy descent to the road below through verdant tea bushes. The massive rock formation and the dense high-elevation rainforest in front of you as you descend are breath-taking. The end of this stage is marked by a bridge and a Hindu shrine just after an information centre set up for tourists.
Categories: Accommodation, News, Sightseeing, Sri Lanka, Sustainability, Travel tips, Wildlife
« All articles