TikaWeeks #12/2019: Sri Lanka update
Posted by John on 22nd March 2019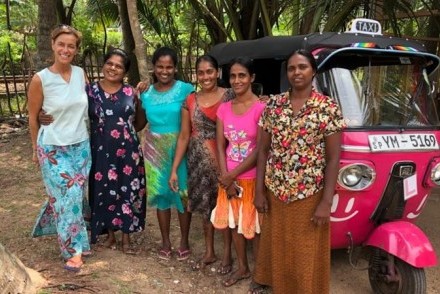 Dropping Facebook
We have decided to take down the Tikalanka Facebook page as the social network's corporate ethos is not compatible with our own, particularly when used as a marketing platform. We hope that our customers will not be disappointed by this decision. Don't despair, we still have an Instagram feed to follow!
Slow travel – experiencing Sri Lanka at its best
"We had decided that we did not want to rush around from site to site / activity to activity… but our preference was for a few worthwhile experiences rather than 'ticking all the boxes' of sites in Sri Lanka." Paul & Nicole, Switzerland, January/February 2019
"We had a couple of long car journeys and wished afterwards we had added a couple of extra nights. But the slightly rushed itinerary in places was at our request, not yours! I just mention it in case you wanted to advise other clients more strongly!" Michael & Jenifer, England, January/February 2019
Just a couple of recent quotes from customers who believe that slow, experiential travel is the best way of seeing Sri Lanka.
Although the island is relatively 'small' – the same size as Ireland or the Benelux countries – there are two major factors that contribute to long journey times between particular locations despite the apparent short distances.
The Central Highlands or Hill Country rises to over 2500 metres and the roads through the tea plantations are tortuous and many in a poor state of repair. Generally, you can look at 20-30 km per hour through this mountainous region.
The road infrastructure has improved beyond recognition since I first stepped foot in Sri Lanka nearly 20 years ago. For instance, the journey from Colombo to Galle was taking 5.5 hours along the west coast-hugging Galle Road; now it takes an hour down the Southern Expressway, currently the island's only motorway (freeway). However, despite the quality of the road surface improving, few roads have been widened (most are still single lane each way) and the local 'traffic' – cows, dogs, bullock carts, bicycles, scooters, paddy tractors, motorcycles, vans, cars, lorries, buses, pedestrians – slows the average speed down to about 40 km per hour even on straight, flat roads!
To me, this is a blessing in disguise since it encourages, nay, forces you to chill as you can't go any faster even if you wanted to. With Sri Lanka's internal flight network still in its infancy, road or rail transport will be the only options for a while yet.
Seeing Sri Lanka at a gentle pace over a longer period, or less of the island over a shorter visit, is becoming the preferred option for many of our customers. After falling in love with the island and its people on an initial trip, repeat customers then make for areas not covered in their previous itinerary, or return to be indulged once again!
"The itinerary was ours based mostly on previous experience, of course. We were not disappointed! It wasn't a holiday for sightseeing but one for being well looked after in nice places." Malcolm & Jacqui, England, February/March 2019
Now that the entire island is open for exploration there is no 'best' time to visit Sri Lanka as you may devise a route that travels in areas outside of the prevailing monsoon. As you probably know already, the southern and western regions are best between November and April, and the northern and eastern regions from March to September.
A two-week holiday staying 2-3 nights in different locations is definitely a better way of experiencing Sri Lanka rather than a whistle-stop tour of one-nighters, although some people do enjoy the latter, too! Many customers comment on the fact that they stay in all of these wonderful hotels around the island but don't have time to enjoy them as an experience in themselves, whereas an extra night here and there would allow you take the foot off the peddle and relax in their superb surroundings.
Ideally, two or more visits to Sri Lanka would enable you to get a real feel for the country, planning at least one trip to the south and west and another to the north and east, and then there is always Maldives as well…
New accommodation to Tikalanka
Nine Skies is another addition to the ever-expanding portfolio of small, quality properties run by Teardrop Hotels, one of the islands premium brands of luxury boutique accommodation. Nine Skies is a refurbished colonial-era tea bungalow with far-reaching views at Demodara near Ella in the southern Hill Country.
Clove Tree House, also near Ella, joins Amba Farmhouse and Clove Tree Cottage as an off-the-beaten track place to stay in the 40-hectare Amba Estate, which produces a range of artisanal teas, coffees, spices and preserves as well as supporting educational, economic and environmental local community initiatives.
32 Middle Street in Galle Fort is a subtly refurbished 17th century Dutch colonial-era villa designed to celebrate its past while highlighting the present. This comfy family home features three en suite bedrooms, spacious living and dining areas, a sit-in verandah, and courtyard pool, and it is serviced by full-time staff.
News update
Sri Lanka ranked top country for travel in 2019 by Lonely Planet
The pink tuk-tuks of Sri Lanka empowering and protecting women
Women peacebuilders tell their stories to mark International Women's Day 2019
"An open, free, secure and resilient cyberspace is vital for development and democracy" - British High Commissioner to Sri Lanka
In an age of endless cricket Sri Lanka just gave us a special moment
Categories: Accommodation, Cricket, Culture, Destinations Show, Honeymoon, News, Sightseeing, Sri Lanka, Travel tips, Weather
« All articles