TikaWeeks #12/2018: Sri Lanka update
Posted by John on 25th March 2018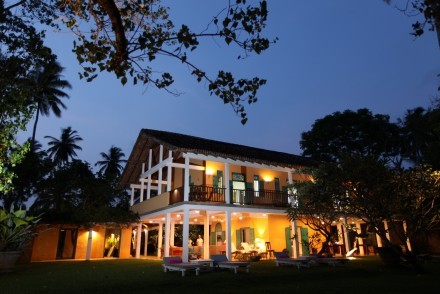 Online reviews and live feedback
Most people now seem to access online travel portals, and TripAdvisor in particular, for reviews before they travel and whilst travelling as a tool to assess the standard of comfort and service of their accommodation. The growth and proliferation of online review websites has changed the way that people select places to stay and, although a very useful tool, do they hold an undue influence over both travellers' and hoteliers' decision-making processes?
From the travellers' perspective, information is power – the power to choose the 'right' accommodation from a myriad of options, with prices and availability compared instantly (see "Accommodation portals and Tikalanka" below for further discussion of this topic). However, with ranking of hotels, discounted deals and special selections, users may be guided by portals to specific hotels or guesthouses without even knowing it. Reading a variety of travel websites and other resources is recommended when choosing your accommodation, and speaking to us, of course! On the flip side is the unsavoury attitude of a minority of travellers who use the threat of a bad review as a means of negotiating a better price, an upgrade or complimentary services from a hotel or guesthouse.
Hoteliers certainly pay a price for inclusion on portals and more so for an enhanced visibility. In the past, hotels had little comeback on bad reviews posted by disgruntled guests; either the portal didn't allow a response or vetted/delayed the response. Thankfully things have changed since then and 360-reviews are now commonplace. With "pay by click" advertising, featured advertorials and hosted ads, hotels have a lot of options on offer to promote their establishments, but at what cost? And how do smaller properties with a squeezed marketing budget compete with the 'big boys'? Seeing is not always believing…
Armed with their mobile phones, travellers have instant access to a mountain of information and like to be in contact when on the road. We at Tikalanka are pleased to receive missives from our customers when on holiday with us, and we pride ourselves on our communication skills and our rapid response to queries. Live feedback from our customers is always welcome so please ensure that we have your contact mobile number and relevant email address before you leave. Bon voyage!
Accommodation portals and Tikalanka
To be frank, online accommodation portals such as Booking.com, Airbnb, Expedia, Agoda and TripAdvisor pose a potential threat to long established and specialist travel companies like Tikalanka. However, unless you evolve, you die, so embracing new technologies and competing with newcomers is part and parcel of our success. We like to be as flexible as possible in creating our itineraries and past customers have requested the inclusion of accommodation unavailable to us but supposedly available through an accommodation portal. This was fraught with problems and in two cases we were left to pick up the pieces...
We had checked availability six months before arrival of a particular, popular hotel in the high season and were told by the hotel directly that it was fully booked. Our customers were particularly keen to stay there and found availability on an accommodation portal. They requested its inclusion in their itinerary, which we granted as a gesture of goodwill. Two weeks before their arrival, the accommodation portal sent an email telling our customers that the hotel was fully booked and their reservation had been cancelled. At the last minute and during the high season, we were left with the task of finding equivalent accommodation for our customers when we had told them months before that it wasn't available… and this happened on a second occasion before we decided not to include independently booked accommodation in any of our holidays.
The other factor commonly raised is a cost comparison of hotels on our website and an accommodation portal. Please be aware that we have confidentiality agreements with our accommodation providers so we are unable to indicate hotel room prices independently of the overall holiday price. Cost comparisons are always difficult since online accommodation portals do not necessarily include all taxes and service charges levied in Sri Lanka, which amount to an extra tariff of nearly 30% currently. Please be assured that we always provide special travel agent rates and the best possible price to our customers, and strive to offer extra discounts for long stays and/or low season travel.
Food in Sri Lanka – #4 Tropical fruits
There is a cornucopia of pineapple, passion fruit, pomegranate, papaya, avocado and mango waiting to be eaten in Sri Lanka. Bananas come in various colours (red, green and yellow) and sizes, from the finger-thick monkey banana to the colossal plantain, and some varieties are included in Ayurvedic treatments.
Quite apart from these tropical fruits available at home, there are red, cherry-like lovi-lovi fruit, mangosteens with flesh that tastes like lychee, and wood apple - good as a rich truffle pudding or a refreshing drink. Also try the sweet-tasting star apples and rambutan - red and hairy on the outside but similar to lychee on the inside. Go for custard apples, cherimoya or bullock's heart, which are a happy trio of relatives packed with white pulp and black seeds.
Then there is the honey-sweet ripe jakfruit, several kinds of guava that make fine jelly, and that maverick monster, the durian, whose reputation and smell usually precedes it. The durian, to some tasting of nougat while others a cross between jakfruit and fried onions, is a pineapple-sized fruit with a hard, spiky exterior, and strongly but improbably rumoured to be an aphrodisiac.
Hotel special offers
01 January to 31 December 2018
Stay 3 nights for the price of 2, Stay 6 nights for the price of 4
Heritance Kandalama Dambulla
08 January to 22 December 2018
20% 'Early Bird' discount when booked 90 days before arrival
Anantara Peace Haven Tangalle Resort Tangalle
11 January to 15 December 2018
Stay 5 nights for the price of 4, Stay 8 nights for the price of 6, Stay 12 nights for the price of 9
Buckingham Place Tangalle
16 April to 30 November 2018
Stay 3 nights for the price of 2, Stay 6 nights for the price of 4, Stay 8 nights for the price of 5
Coco Tangalla Tangalle
Taylors Hill Deltota (near Kandy)
The Last House Tangalle
01 May to 14 December 2018
Stay 3 nights for the price of 2
The Fort Bazaar Galle
The Wallawwa Kotugoda (near the airport)
State of Emergency – Sri Lanka and Maldives
Both Sri Lanka and Maldives had a State of Emergency lifted recently and current official travel advice may be found at FCO Sri Lanka and FCO Maldives
Categories: Accommodation, Culture, Maldives, News, Sri Lanka, Travel tips
« All articles