TikaWeeks #10/2022: Sri Lanka update
Posted by John on 9th March 2022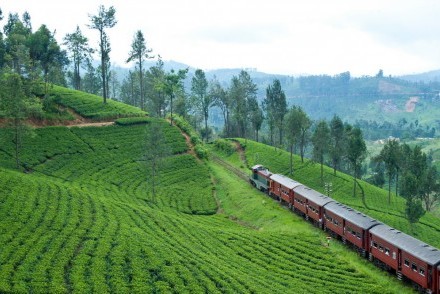 Like the rest of the world, Sri Lanka is currently suffering the effects of sky-high oil prices, supply chain issues and a prolonged break in tourism due to the pandemic but this doesn't stop new travel initiatives from appearing on the island. These include a new luxury train service from Kandy to Ella (the most picturesque railway journey on the island), a projected cable car route through the breath-taking scenery of the Hill Country, and the opening of the Central Expressway between Colombo and Kandy in 2024.
'Ella Odyssey' luxury train from Kandy to Ella
For the first time in Sri Lanka Railways' history, a luxury train will be introduced next month (April 2022) from Kandy to Ella and back only. The train will operate daily from Kandy to Ella in the morning and return in the evening.
There will be around 176 AC first class seats and over 144 second class seats in the train branded the 'Ella Odyssey' and operated by Sri Lanka Railways. There will also be a restaurant serving a buffet with 70 seats.
One of the unique features of this route is that the train stops at several popular tourist spots along the way, allowing passengers to visit these sites before continuing, which is also a first of its kind in Sri Lanka.
Source: Daily News Online
Scenic cable car experience in the Hill Country
Another tourism 'first' for Sri Lanka is a projected four-kilometre long cable car experience between Nuwara Eliya and Nanuoya, which is the nearest railway station to the 'City of Lights'. The location of the cable car route takes advantage of the Hill Country's breath-taking scenery and allows visitors a bird's eye view of the lush green landscape, rolling hills, numerous tea estates and the montane forests of Nuwara Eliya.
The design of the cable car and associated infrastructure ensures that it will blend seamlessly with the surrounding landscape and not detract from the natural setting. Care has also been taken to preserve the tree line, canopy and other aspects of this wilderness area during construction and implementation. It was shown that, once running, the cable car line will reduce harmful greenhouse gas emissions by approximately 180 metric tonnes per year by decreasing the tourist traffic between Nuwara Eliya and Nanuoya.
The cable car project is expected to take less than 18 months to complete, once started.
Source: Sri Lanka Tourism
Central Expressway completed by 2024
The Central Expressway between Colombo and Kandy will be completed by 2024, according to the Highways Ministry. The foundation stone for the expressway was laid in November 2014 and work subsequently started in Galagedara, Kurunegala and Dambulla. However, the project has stalled and there is still a 20-km section unfinished up to Kandy.
Once completed, the Central Expressway will speed traffic from the metropolitan capital to termini at Kandy, Dambulla in the Cultural Triangle, and Ambepussa.
Source: Daily Mirror Online
Categories: News, Sightseeing, Sri Lanka, Travel tips
« All articles