TikaWeeks #09/2020: Sri Lanka & Maldives update
Posted by John on 27th February 2020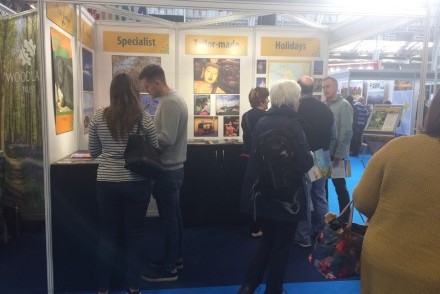 Many thanks to everyone who came to visit us at Destinations: The Holiday & Travel Show, the UK's biggest event for travel inspiration, held at Olympia London from 30 January to 02 February 2020. As always, the show was busy and a great success for us, with much interest for seeing less trammelled areas of Sri Lanka as well as the well-trodden routes. Since then, coronavirus (COVID-19) has raised its ugly head across the globe…
There is an ongoing outbreak of coronavirus. The virus originated in China but cases have been confirmed in other countries, including Sri Lanka. The Sri Lankan Government is taking various precautions to prevent the spread of the virus. Currently, the following measures are being implemented by the Sri Lankan Government in the face of the coronavirus outbreak:
From 29 January 2020, only passengers are permitted to enter the airport premises; visitors not travelling are prohibited. All necessary arrangements and precautions have been taken at Bandaranaike International Airport to detect and treat anyone found or suspected to be infected on arrival. (Source: Chairman, Airport & Aviation Services, Sri Lanka)
Issuing on arrival visas to tourists from China has been cancelled with immediate effect and no admission to the country for anyone who is from Wuhan or Hubei Province of China.
For any unavoidable arrivals from China, a separate terminal is now open at the airport with all of the precautionary measures necessary to prevent the spread of coronavirus if a passenger is infected. (Source: Health Ministry of Sri Lanka / Civil Aviation Authority (CAA) of Sri Lanka)
A Task Force has been appointed consisting of 22 qualified professionals to address the matter under the direct supervision of the Prime Minister and clear guidelines have been issued by the Ministry of Health to all the relevant health authorities, island-wide, with respect to all the aspects of containing/managing the current situation. (Source: Health Ministry of Sri Lanka / Prime Minister's Office)
The general public is being educated on preventative measures needed in order to minimise the risk of infection via media and through regional health departments.
As of 28 January 2020, one case of novel coronavirus has been reported in Sri Lanka. You can find more information about cases in Sri Lanka on the TravelHealthPro website
Further information on coronavirus, including advice on preparing for foreign travel and helping reduce the spread of the virus, is available from Public Health England and on the TravelHealthPro website
For current official travel advice to Sri Lanka, please go FCO Sri Lanka
There have been no confirmed cases of coronavirus in Maldives.
For current official travel advice to Maldives, please go FCO Maldives
Categories: Destinations Show, Flights, Health, Maldives, News, Sri Lanka, Travel tips
« All articles