TikaWeeks #09/2018: Sri Lanka update
Posted by John on 4th March 2018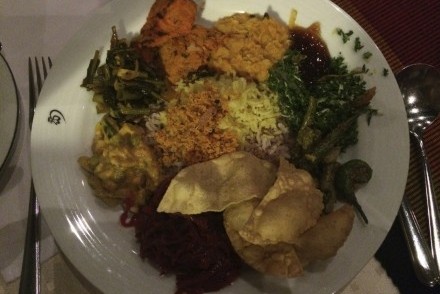 Food in Sri Lanka – #1 Rice and Curry
The national meal in not referred to as "curry and rice" but "rice and curry", for a Sri Lankan will sit down to eat in front of a mountainous plate of rice to which is added a small spoonsful of curries, meat or vegetable (often with added coconut milk and lentils), along with a spoonsful of various spicy pickles, sweet and sour chutneys, and fiery hot sambols (ground coconut or onion mixed with red chillies and lime).
The term "curry" can be as confusing as the various aromas wafting up from a spice vendor's stall. Curry is not the product of one plant but a mixture of spices that can change depending on individual taste. Coriander, chillies, mustard, cumin, pepper, cinnamon and garlic are just some of the common ingredients which add flavour to both seafood and meat curries. It is this mixture of spices that is an integral component of the dishes known as "curries", generally presented as side dishes arranged around a large bowl of rice, the centrepiece of any dinner in Sri Lanka.
More than 15 varieties of rice are grown on the island, from the tiny white, translucent pearl shapes to long-grained basmati and the red kakuluhaal, a nutty, very flavoursome strain. The fully cooked (not al dente) rice has the highly spiced accompaniments kneaded into it using the right hand only so that each mouthful has a mixture of flavours. However, when massaging the rice and curries together, food should not pass the first knuckle of the fingers in order to observe the correct etiquette.
Flying to Sri Lanka and Maldives
Various airlines ply their trade between the UK and Sri Lanka/Maldives, although we don't use all of them.
The only airline that currently offers direct, non-stop flights to Colombo is SriLankan Airlines, which flies from London Heathrow only.
Emirates has the best network with flights from Birmingham, Glasgow, London Gatwick, London Heathrow, Manchester and Newcastle (as well as Dublin), via Dubai. Recently, Emirates has increased capacity by partnering up with Fly Dubai, a budget airline flying between Dubai and Colombo, which offers a pared-back service, so please beware when looking at flight options with Emirates.
Qatar Airways has improved its network in recent years and now flies from Birmingham, Edinburgh, London Heathrow and Manchester (as well as Dublin), via Doha.
Etihad Airways claims to offer flights from 26 UK towns and cities as well as six locations in Ireland to Colombo, via Abu Dhabi. However, in reality, Etihad has three hubs in the UK (Edinburgh, London Heathrow and Manchester) and one in Ireland (Dublin). The other airports on its network, including Aberdeen, Belfast, Cardiff, East Midlands, Jersey, Leeds, Norwich and Southampton, are serviced by partner airlines.
Jet Airways is potentially one of the cheapest flight options to Sri Lanka, via Mumbai (Bombay), although it flies from London Heathrow only.
Oman Air, from London Heathrow via Muscat, is another reasonable routing with occasional, very good deals in Business Class.
British Airways ceased flying to Sri Lanka, and reduced its flights to Maldives to a winter schedule only, in 2015. There are flight options with BA via India (possibly Chennai [Madras] best) and a connecting flight on SriLankan to Colombo, but an Indian visa is required and transit times can be long. Consequently, we do not recommend flying with BA.
Gulf Air, KLM (partnered with Etihad), Turkish Airlines, Air India and Kuwait Airways also fly from the UK to Sri Lanka/Maldives amongst others.
Travel insurance
We believe that safety and enjoyment are equally important when travelling with Tikalanka. It is therefore one of our terms and conditions of booking that you have adequate travel insurance in place before you travel; cover must include emergency medical expenses, personal accident and repatriation. In addition, we strongly recommend that you include baggage, personal liability and cancellation cover.
Before you leave the UK, Tikalanka strongly recommends that you take out adequate insurance for your own financial and personal security. In fact, it is best to ensure that the cover is in place before you book in case you have to cancel your holiday before departure. This situation has occurred a few times over the years and, thankfully, all customers were adequately covered by their own travel insurance policy.
Money matters
Sri Lanka's currency is the Sri Lankan Rupee (LKR, Rs). If it is available outside of Sri Lanka the exchange rate will be very poor so please do not bother to purchase LKR before you arrive in Sri Lanka – recent customers received an exchange rate of 185 in the UK whereas the actual rate in Sri Lanka was 210... It is best to take British Pounds (GBP, £) in cash and use ATMs locally (please check with your bank before travelling about access to ATMs in Sri Lanka). Travellers' cheques are not accepted in Sri Lanka.
The Maldivian currency is the Rufiyaa (MRf) and it is not available outside of Maldives. However, payments in the resorts can be made in most currencies in cash or by credit card. US$ is the most commonly used foreign currency.
Sri Lanka – a good read
Anil's Ghost by Michael Ondaatje
Highly charged novel of the recent political turmoil engulfing Sri Lanka, a story about love, family, identity, the unknown enemy, and the quest to unlock the hidden past.
A Village in the Jungle by Leonard Woolf
This novel is set in a backward farming village in the south of the island around 1900 and is a rather depressing account of daily life. The author was in the colonial civil service at the time and went on to be a member of the Bloomsbury set.
Monkfish Moon by Romesh Gunesekera
Nine short stories on how the war affected people's lives.
Running in the Family by Michael Ondaatje
Light-hearted exploration of the island as the author re-visits the land of his birth.
This Divided Island: Stories from the Sri Lankan War by Samanth Subramanian
An extraordinary account of the Sri Lankan civil war and the lives it changed – a harrowing and humane investigation of a country still inflamed.
When Memory Dies by A Sivanandan
Through the viewpoints of three generations of a Sri Lankan family (1920–1980s), the book explores a culture destroyed first by colonisation, then through the ethnic divisions that are released when the country achieves independence.
Woolf in Ceylon by Christopher Ondaatje
The author was born and brought up on the island and he follows in the footsteps of Leonard Woolf, who was sent out to Ceylon (now Sri Lanka) in 1904 as a cadet in the Ceylon civil service, joining the small group of white administrators who ruled the colony.
Categories: Culture, Flights, Maldives, Sri Lanka, Travel tips
« All articles