TikaWeeks #07/2018: Sri Lanka update
Posted by John on 18th February 2018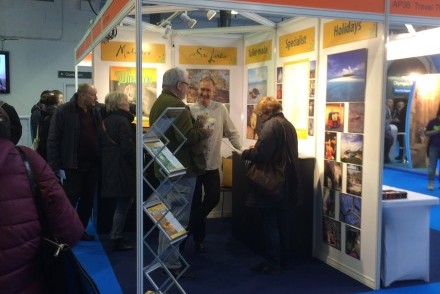 Destinations: The Holiday & Travel Show, Olympia, London, 01-04 February 2018
The Destinations holiday and travel show at Olympia was a great success, as always, and we wish to thank everyone who came to see us – new and past customers alike! We really enjoy being able to chat to people face-to-face and tell them about our Sri Lanka and Maldives holidays as well as our travel ethos and aspirations, which we hope will encourage more and more people to experience the islands with us. Built from a close personal friendship and a genuine love of the island, Tikalanka is the tailor-made travel specialist to Sri Lanka and Maldives, run by the Beswether(ick)Harts in the UK and Pathiranas in Sri Lanka!
Once a year, discussing people's holiday ideas and requirements in detail and in person helps us to improve our unique tailor-made itinerary approach for the bulk of our holidays developed through telephone and/or email conversations. Honing our skills at the show enhances the way we create and refine individual itineraries for different customers in order to produce their ideal holiday to Sri Lanka and Maldives – and we love the personal interaction! Living out 'in the sticks' of the beautiful Lake District means that meeting and greeting potential customers is far from easy so the annual sojourn into 'the Smoke' is a real treat for us!
More and more people are now appreciating that Sri Lanka is a place to visit at any time of year, with October probably the only month not be recommended due to the change in the monsoon seasons. Since the declaration of peace in 2009, the whole island is open and safe to travel around, and now you may choose a region to explore based on your particular interests and allotted holidays rather than permissible access. For instance, the 'classic' introductory tour of Sri Lanka, which takes in the Cultural Triangle, the Hill Country, a national park, south or west coast beach and may be Galle, is still a favourite from November to April, but now there is real interest in the north and east of the island, which is best visited between March and September. Many travellers plan an all-encompassing tour of the island with the expectation of never returning to Sri Lanka and then surprise themselves by finding the island's great diversity and welcoming, smiling locals a bewitching attraction for further visits – we have customers returning for a fifth time later this year! And they are not alone…
Much discussion at the show also centred on new and so-far undiscovered or less frequently visited areas of Sri Lanka. Jaffna is still off the beaten track for most visitors despite an increasing and improving choice of accommodation. It may be the time to experience a 'different' Sri Lanka rich in the colourful and vibrant Hindu Tamil customs and heritage rather than the dominant Buddhist Sinhalese culture prevalent further south. The north-western 'dry zone' region of Mannar Island is another area ripe for discovery, particularly if you are avid birders as Mannar Island and nearby mainland are home to enormous flocks of migratory birds during and after the monsoon between October and March. Less well-known national parks such as Gal Oya, Wasgamuwa and Kumana are now hitting people's radar, and untrammelled areas of the Hill Country around Belihuloya are beginning to open up. The east coast was the place to sun yourself before the civil conflict began in the early 1980s and Sri Lanka's loss was Maldives' gain. Today, Passikudah has been developed into a dedicated tourist area offering a variety of beachside resorts; Nilaveli and the area north of Trincomalee generally remains a quieter beach alternative with the added benefit of local sites of interest and Pigeon Island; and Arugam Bay is still Sri Lanka's surfing 'Mecca', with mostly guesthouse accommodation, although more upmarket options are beginning to launch.
Hidden gems – finding new alternatives to old favourites
West coast beaches – Bentota is an established and popular beach resort area with a variety of places to stay, many of which are on our recommended hotels list. For a less busy alternative, may be try the sparsely populated Kalpitiya peninsula further north along the west coast for a relaxed, sand-between-the-toes, Robinson Crusoe experience! In the season (November to April) there is also the opportunity of canoeing, kayaking, sailing, kite surfing and cycling as well as dolphin/whale-watching excursions in the local area.
Walking/trekking – The Hill Country offers a variety of attractive walking and trekking trails, particularly around Ella in the south and Castlereagh reservoir in the west, mostly through the ubiquitous tea plantations. A more geographically diverse and quieter option is the Knuckles Mountain Range northeast of Kandy, which is a Biosphere World Heritage Site. Traversed by pristine valleys harbouring crystal-clear rivers and virgin jungle, the mist-laden mountains of the "Knuckles" are still a tourist backwater, an ideal area for hiking and trekking or kicking back and communing with nature!
Cave temples – The World Heritage Site of Dambulla is rightly considered the location of the island's principal cave temples and a visit is highly recommended. However, just down the road is another cave complex and an interesting cultural experience to boot. Aluvihara, the Temple of the Ashes, has great significance for the Buddhist world as it was here that the Buddhist Doctrine was first written down in Pali on ola leaves in the 1st Century BC. The strangest cave of all contains a salutary and macabre depiction of the afterlife awaiting miscreants. As your eyes adjust to the gloom you see colourful statues of sinners being punished by demons, including a male sex-pest having the top of his skull removed so that the demons can reach in with a spoon and ladle out his brain!
Leopards, sloth bears and elephants – Yala West National Park in the south-eastern corner of the island is world renowned for leopard sightings but this notoriety has a flip side. The popularity of Yala may affect your wildlife-watching experience during the high seasons, with queues of jeeps waiting for a brief view of a beleaguered leopard atop a rock or jeeps charging along jungle tracks in pursuit of said leopard. In contrast, the much quieter Wilpattu National Park in the northwest is Sri Lanka's largest wildlife reserve and another 'dry zone' jungle like Yala. The geographical similarity of the two regions means that wildlife is also comparable and both Yala and Wilpattu are home to leopards, sloth bears and elephants as well as an array of exotic birdlife.
Rock temples – Sigiriya, or Lion Rock, is a must-see stop for a lot of visitors and we incorporate the climb to the top in most of our itineraries travelling through the Cultural Triangle. Inland from Tangalle on the south coast is another hill top temple and may be an additional excursion for those interested in the cultural and historical heritage of the island. The imposing rock temple of Mulkirigala Raja Maha Viharaya is similar to Sigiriya as it is situated on an isolated rock 210 metres high rising almost vertically from the surrounding forest. It is believed to have been founded around 130 BC, six centuries before the pleasure palace of Sigiriya. The views from the top of Mulkirigala are just as impressive, if very different, from the vistas opening up from Sigiriya.
News round-up
Sailing cruises around the islands of the Jaffna peninsula
Where next for Yala and over-tourism?
Reclaimed Colombo beach to rival Copacabana?!
TripAdvisor on Sri Lanka – what next?
Maldives declares a state of emergency in capital Malé; resort islands unaffected
Categories: Culture, Destinations Show, Maldives, News, Sightseeing, Sri Lanka, Travel tips, Wildlife
« All articles