TikaWeeks #04/2018: Sri Lanka update
Posted by John on 22nd January 2018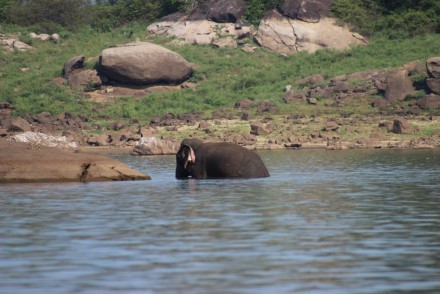 Wildlife alternatives in Sri Lanka in 2018
Gal Oya NP - Unique to the island, Gal Oya is the only national park where safaris are conducted by boat, allowing closer than usual wildlife encounters. The park is an isolated wildlife reserve of over 25,000 hectares of lush evergreen forest and open savannahs alongside placid Senanayake Samudra, Sri Lanka's largest inland body of water. Gal Oya is home to 32 species of mammals including elephants, leopards, sloth bears, wild boar, langurs, toque macaques, water buffaloes and deer, as well as around 150 species of birds. However, the potential highlight of a visit is to spot elephants swimming between the islands dotted around the lake – a memorable and profound experience.
Kumana NP – Formerly known as Yala East National Park, Kumana is one of the island's principal bird sanctuaries and also home to leopards, sloth bears and elephants roaming across the unprotected border from neighbouring Yala West National Park. Spanning 18,150 hectares, Kumana is best known for its abundant bird life, and a considerable number of bird species breed and feed here. One of the most significant features of the park is the Kumana Villu, a 200-hectare natural swamp lake fed by the Kumbukkan Oya, which hosts tens of thousands of migratory birds between April and July. Two hundred and fifty five species of birds have been recorded in Kumana including rare species such as the Black-necked Stork, Lesser Adjutant, Eurasian Spoonbill, Great Thick-knee, Yellow-footed Green Pigeon, Greater Racket-tailed Drongo, Malabar Trogon, Red-faced Malkoha and Sirkeer Malkoha.
Sinharaja NP – Sinharaja Biosphere Reserve is a World Heritage Site and one of the last pockets of Sri Lanka's once extensive cover of rainforest. Dominated by the tall majestic hora and kina trees, the forest canopy is often over 40 metres high and close-galleried, thus providing a shrub-free, easily traversed forest floor. This evergreen tropical rain forest boasts some incredible statistics. Of the many types of trees and lianas, 66% are endemic, and over half of Sri Lanka's endemic butterflies and mammals, including leopards, rusty spotted and fishing cats, sambars, barking deer, wild boars, langurs, squirrels, porcupines, pangolins, mongooses, and bats, live here. Sinharaja is also a particularly good area for spotting lowland endemics and mixed species bird flocks. According to a study of the mixed species bird flocks in the area, 42 individual birds on average occur in the flocks, which makes this flock the world's largest mixed species bird flock. Endemics recorded in the area include the Sri Lanka Junglefowl and Spurfowl, Red-faced Malkoha, Spot-winged Thrush, White-faced Starling, Chestnut-backed Owlet, Black-throated Munia, Sri Lanka Blue Magpie & Sri Lanka Myna.
Wasgamuwa NP – Renowned for its abundant wildlife, wilderness setting and a number of ancient sites, of particular interest are sloth bears since research in the park suggests that the density of bears in Wasgamuwa is probably higher than anywhere else in Sri Lanka – the name "Wasgamuwa" may derive from an ancient meaning of a gathering place for bears. In addition, the park has the reputation of being home to some of the largest Asian elephants and the 'marsh elephant' of Wasgamuwa is reputedly the largest of the Sri Lankan elephants. Over 143 species birds have been recorded in the area, of which five are endemic to Sri Lanka, 15 species of amphibians and 35 species of reptiles as well as 52 species of butterflies can be seen flitting around the park.
Ideas for seeing a different Sri Lanka in 2018
Belihuloya – Following the southern edge of the Hill Country southwest from Ella is an up and coming area around Belihuloya. Still a tranquil backwater with few tourists, this region is beginning to attract visitors seeking quietude and relaxation in stunning surroundings. There are also various walking trails heading towards Horton Plains National Park, and Sri Lanka's first bushwalks camp situated in virgin forest at the northern extremity of Uda Walawe National Park as you drop down to the southern plain.
Jaffna – At the northernmost tip of the island is the ancient Tamil kingdom of Jaffnapatam. Now fully accessible again since the end of the civil conflict in 2009, Jaffna remains off the beaten track to most visitors and consequently an attractive proposition for those wishing to miss the crowds. Unlike most of the country, Jaffna has a real sense of Tamil identity and vibrancy, more akin to southern India than Sri Lanka in many ways. Jaffna includes the recently renovated fort and the city library, a World Heritage Site, and Nallur Kandaswamy Kovil, which is one the most sacred Hindu temples in Sri Lanka. Further afield, Nainativu Island is home to Nagadeepa Purana Rajamaha Viharaya, one of the sites the Buddha is believed to have visited and an important pilgrimage site for Buddhists, and Delft Island, with its free-ranging horses and Dutch colonial influence. Local ferries ply between the mainland and both of these islands.
Mannar Island – Another of the island's 'dry zone' regions, unsurprisingly Mannar Island in the north-west is similar in climate, topography and vegetation to Yala and Tissamaharama in the south-east. However, here the typical dry zone scrub jungle giving way to a vast lagoon, mud flats, wading birds and… donkeys! These beasts of burden were originally introduced to Mannar Island by Arab traders who used them as pack animals for transporting their goods and wares. Over time, some donkeys escaped and subsequently a feral population flourished. Talaimannar, where 'Adam's Bridge', the ancient sand spit link between India and Sri Lanka, once made landfall with the island, is the most north-westerly point of the country. One of the main attractions of this region is the birdlife, particularly during the migration season (October to March).
Credit card payments
As of 13 January 2018, service charges or fees are no longer allowed to be levied on credit card transactions by law. As a small independent travel company, it is going to be very difficult for us to absorb these fees that we are charged for accepting credit card payments – the new law was introduced to stop unscrupulous companies from exploiting customers by charging excessive fees. However, the fees that we charged previously were wholly and directly passed on to our merchant services provider. Consequently, from 13 January 2018, we will be capping payment by credit card at GBP1000 in the first instance, which allows most customers to pay their deposits by credit card and affords protection under section 75 of the Consumer Credit Act. I hope that you understand our position and appreciate that we endeavour to look after our customers at all times.
Destinations: The Holiday & Travel Show, Olympia, London, 01-04 February 2018
Discover your next adventure at Destinations: The Holiday & Travel Show, in association with The Times and The Sunday Times, the UK's biggest event for travel inspiration taking place at Olympia London from 01 to 04 February 2018.
Get your complimentary e-ticket to the Destinations Show, Olympia London, courtesy of Tikalanka quoting DST41 here

As well as invaluable and inspirational travel advice on offer, Destinations: The Holiday & Travel Show brings together travel's very best authors, TV presenters, photographers and internationally renowned musicians and performers. Your complimentary ticket includes free entry to:
Come and meet Tikalanka at Destinations: The Holiday & Travel Show at Olympia London on stand AP38. Quote DST41 here to claim your free e-ticket!
News round-up
Sri Lanka declared No. 1 spot to offer "a better all-round travel experience"
Tourist Police gets modern rovers and trail bikes to enhance safety
Sri Lanka recognised as preferred film destination for British filmmakers
Construction of biggest tourism project to start next year according to Prime Minister
Premier reveals plan to establish major tourist zone in Uva Province
Categories: Culture, Destinations Show, Financial protection, News, Sightseeing, Sri Lanka, Travel tips, Wildlife
« All articles