TikaWeeks #02/2020: Sri Lanka & Maldives update
Posted by John on 10th January 2020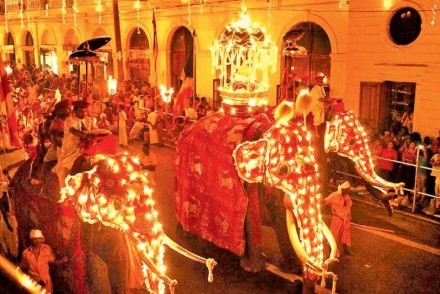 2020 has arrived and I hope it has started well for you all – not so good for me as I fell on an icy hill walk on New Year's Day and broke my wrist… it can only get better from here. This update lists the various and myriad public and bank holidays in Sri Lanka for the year, announces the dates of the Kandy Esala Perahera, one of the cultural highlights of the year, and reminds you to come to see us at Destinations: The Holiday & Travel Show at London Olympia later this month.
Public and Bank Holidays – Sri Lanka – 2020
January
10 Duruthu Full Moon Poya Day
15 Tamil Thai Pongal Day
February
04 National Day
08 Nawam Full Moon Poya Day
21 Mahasivarathri Day
March
09 Madin Full Moon Poya Day
April
07 Bak Full Moon Poya Day
10 Good Friday
12 Day prior to Sinhala & Tamil New Year Day
13 Sinhala and Tamil New Year Day
May
01 May Day
07 Vesak Full Moon Poya Day
08 Day following Vesak Full Moon Poya Day
25 Id-Ul-Fitr (Ramadan Festival Day)
June
05 Poson Full Moon Poya Day
July
04 Esala Full Moon Poya Day
August
01 Id-Ul-Alha (Hadji Festival Day)
03 Nikini Full Moon Poya Day
September
01 Binara Full Moon Poya Day
October
01 Adhi-Vap Full Moon Poya Day
30 Milad-Un-Nabi (Holy Prophet's Birthday)/Vap Full Moon Poya Day
November
14 Deepavali Festival Day
29 Ill Full Moon Poya Day
December
25 Christmas Day
29 Unduvap Full Moon Poya Day
Kandy Esala Perahera, 25 July – 03 August 2020
The Kandy Esala Perahera, also known as the Sri Dalada Perahera procession of Kandy or The Festival of the Tooth, is a 10-day event held annually during July and/or August leading up to the Nikini full moon day – this year it runs from 25 July to 03 August. This historical procession pays homage to the Sacred Tooth Relic of Lord Buddha, which is housed in the Sri Dalada Maligawa (Temple of the Tooth) in Kandy. A unique symbol of Sri Lanka and one of the cultural highlights of the year, the perahera is an elephant parade with much pageantry and includes Kandyan dancers and drummers, the caparisoned Maligawa Tusker (sacred elephant) carrying the tooth relic as well as up to 50 other dressed elephants, fire-eaters and jugglers, and marching bands. Please contact us for more details and we will be more than happy to include it in your holiday with us.
Destinations: The Holiday & Travel Show, Olympia London, 30 January – 02 February 2020
Discover your next adventure at Destinations: The Holiday & Travel Show, in association with The Times and The Sunday Times, the UK's biggest event for travel inspiration taking place at Olympia London from 30 January to 02 February 2020. Come to visit us on stand AP38 and also get your complimentary e-tickets* to the Destinations: The Holiday & Travel Show courtesy of Tikalanka by quoting EXTIKA here
With over 770 travel brands across both shows, including more than 75 tourist boards, over 70 new exhibitors there is no other place to meet so many travel experts and tailor-make your next trip. And to top it all, when you book at Destinations you can enjoy a host of exclusive offers and upgrades!
Stanfords Travel Writers Festival and the Meet the Expert Theatres will inspire with their tales of travel from a fantastic speaker line-up including renown chef John Torode, adventurer and journalist Pip Stewart, mountaineer and photographer Sir Chris Bonington, award-winning comedian and writer Dom Joly, cookery legend Ainsley Harriott, best-selling Wild Swans author Jung Chang, journalist, broadcaster and former MP Michael Portillo, and the UK Military's Chief Survival Instructor John Hudson. Click here for more information on the list of speakers presenting at the London show.
Experience the World Stages will bring the world to life with food and drink tastings alongside colourful cultural performances. Plus, Travel Photography Masterclasses with professional photographers, Steve Davey and Paul Goldstein, will enable budding photographers to learn how best to capture breath-taking views and memorable travel moments.
This will be complemented by the ever-popular and awe-inspiring Wanderlust Travel Photo of the Year competition which shows off travel photography talent from all ages and backgrounds in one exhibition.
New for London 2020 is the Travel Smarter Stage dedicated to travel hacks, tips and inspiration.
* Maximum two tickets per order, then standard advance ticket price applies for London of £11. Advance box office closes on 30 January 2020 for London.
Categories: Accommodation, Cricket, Culture, Destinations Show, Financial protection, Flights, Health, Honeymoon, Maldives, News, Sightseeing, Sri Lanka, Sustainability, Travel tips, Weather, Wildlife
« All articles