TikaWeeks #01/2022: Sri Lanka update
Posted by John on 7th January 2022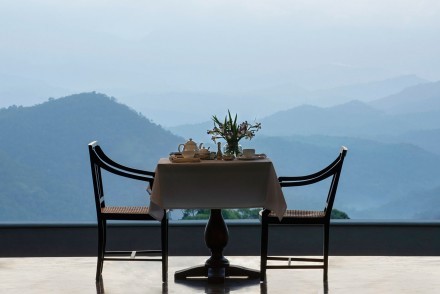 Happy New Year and now back to the last. Our 'Northern Tour' of Sri Lanka started with visiting a few special places to stay around Kandy before heading northeast into the Cultural Triangle – Dambulla, Sigiriya and Habarana – and on to Nilaveli just north of Trincomalee on the east coast. We then drove straight up to Jaffna at the northernmost tip of the island before returning south to the Anuradhapura and Wilpattu region. Our last stop was in the Negombo area before I flew home.
It is always refreshing to find newly opened, or novel to us, accommodation even after all of the years we have been operating, and it never ceases to amaze me how many new or novel places there are in Sri Lanka every time I come. Our first visit of the day was in the Hanthana area of Kandy not too far from Pathi and Suba's homestay guesthouse (Hanthana House) and was known to the Pathirana's from house parties held there over the years, so Dihini, their daughter who accompanied us for the day, revelled in telling me. However, much has obviously changed since the derelict and unoccupied former tea estate bungalow was used by the locals for impromptu festivities. W15 Hanthana Estate is a luxury boutique hotel set within the eponymous Hanthana Estate, one of the heartlands of original Ceylon Tea, with magnificent panoramas of the Knuckles Mountain Range and beyond. All of the spaces are huge, which becomes apparent immediately you enter under the enormously deep eaves that over-sail the generous encircling veranda. The entrance is double-height and wide enough to take a carriage and horses – fanciful imagery, I appreciate, but hopefully gets the point across of its larger-than-life dimensions. Then you seamlessly move into the main over-sized reception room: a library, sumptuous sitting area and occasional bar all rolled into one, with two sides opening out onto the veranda through French windows. The five bedrooms in the bungalow are exquisitely appointed and each feature an exclusive large, enclosed private garden, perfect for relaxing or enjoying an intimate dinner. Four further bedrooms are housed in the former stable block at the rear of the estate, which are flooded with warm natural light, and the upper rooms afford unparalleled views of far off lands. I would suggest that W15 Hanthana Estate is a genuine rival to the four bungalows at Ceylon Tea Trails in feel, ambience and experience as well as the all-inclusive accommodation provided. Highly recommended.
Down on the banks of the mighty Mahaweli Ganga (river) just outside of Kandy lies Jetwing Kandy Gallery, the latest addition to the family-run Jetwing Hotels chain. We met up with Dilip, the General Manager and a business colleague of ours over many years – I last met him when he was setting up and launching Jetwing Surf at Pottuvil on the east coast, where he became General Manager, four years ago. Delightful and helpful as ever, Dilip gave us an escorted tour of the hotel and imparted much more useful information to boot. Marketed as a luxury boutique hotel like Jetwing Surf, even the 'starter' category of room is impressively turned out and comes with personalised butler service, and all rooms have river-facing views. The ingenious hotel design has allowed for several combinations of rooms for varying sizes, and choices, of families or groups, with interconnecting rooms of different categories and layout available. The riverside aspect is a bonus except for a plethora of unsightly flotsam and jetsam that accumulates immediately in front of the hotel. Dilip's team regularly cleans the area of the surfeit of discarded plastic bottles, bags and containers washing up on the riverbank from neighbouring riparian communities but, unluckily for them, the regular flow and local eddying action of the Mahaweli always brings more rubbish to their door… Still, a lovely place to stay in a tranquil and picturesque setting.
Returning to Aniwatta, one of the seven hills of Kandy and an exclusive residential area of the city, we found Kings Pavilion hidden within a forest of endemic tropical trees and plants cascading down the hillside. What a gem. This former corporate (British American Tobacco) bungalow is a genuine jewel in the crown of the last Sinhalese kingdom, an idyllic and luxurious sylvan retreat within a stone's throw of the city centre. The architect-designed, contemporary interpretation of a traditional Sri Lankan walauwa (manor house) is exquisite and perfectly positioned to take in the wondrous views of the Knuckles Mountain Range on the horizon. The minimalist house's spatial design is well considered, with a natural flow to and between the rooms, and the finishing immaculate throughout. The private estate has two satellite buildings, fore and aft, both complementing the main house in ambience and aesthetic. This remarkable boutique hotel may be ahead of its time architecturally in its adoption of 'biophilic' design well before it became fashionable, although Geoffrey Bawa and Laki Senanayake were using biophilic concepts in their building designs a while ago, too. The nine bedrooms, comprised of Deluxe Rooms, Junior Suites and Suites, are some of the most impressive spaces I have been lucky enough to see, and it is no wonder that Kings Pavilion is one of the most sought after luxury hotels in the Kandy area. Highly recommended if you are willing to pay a premium price.
The following day we headed northeast into the Cultural Triangle, which is delimited by the Kandy-Polonnaruwa-Anuradhapura axis, stopping in Matale on the way for us to buy spices. Although spice gardens are renowned for being overly expensive, the quality of the spice products on offer is excellent and, since Pathi knew the owner well, we managed to negotiate a good deal! (On this note, never buy any purported Ayurvedic balms or medicines from the spice gardens, however, as these products vary greatly in quality, authenticity and provenance.)
After a yummy roadside breakfast of dhal, pol sambol (coconut relish) and potato curry eaten with torn-off wedges of doughy white bread and washed down with plain tea and bottled water for less than a fiver between us (!), we continued to our first visit at Dambulla. Known to us previously under a different guise, Sigiriana Resort by Thilanka was an expanded version of the original and no better, unfortunately, which meant that this hotel was a wasted stop. Pushing on to Sigiriya, we took another look around Roo Mansala, which is much more to our liking. With only six rooms, this modest boutique hotel is a tranquil haven away from the crowds visiting Sigiriya Rock, which is one of the views from particular rooms and the garden of the hotel, with the other view being of Pidurangala Rock closer by. It provides comfortable accommodation within walking distance of the historic 'Rocks', and includes a small swimming pool, bar and restaurant.
A couple of other hotels for potential visits were closed in the area so we carried on to Habarana, the 'crossroads' of the Cultural Triangle. The Other Corner has been an enduring choice of ours as the 'starter' category of accommodation in the region, although Galkadawala has usurped its pre-eminence since the road was finally completed to Galkadawala. Having said that, the two properties are quite different despite their apparent similarity on initial viewing. The Other Corner is a more conventional place to stay with comfortable wooden chalets and tree houses scattered around a wooded garden surrounded by a forest full of wildlife. Galkadawala, on the other hand, is a sustainably-built, open-plan, contemporary forest lodge hidden away within densely forested former chena farming land and walking distance from a tank (reservoir). The accommodation is quirky; recycled materials have been used in the construction of the lodges and each living space is different. To enhance the feeling of being with nature, the upper room walls are half exposed to the open-air and finished with mosquito netting. The bathrooms are similarly open but private. Maulie, the owner, has gone to great lengths to be as sustainable as possible, including using rammed earth construction for her newest buildings, salvaging more recyclable materials from here and there, and offering vegetarian food only, some of which is grown in her garden. Like any open-plan wooden structure, the lodges may be infiltrated by various creepy crawlies, which well-sealed mosquito nets and bright torches can help guard against. We were reassured by the visits to both properties, which will continue to appear on our recommended accommodation list.
Leaving the Cultural Triangle, we maintained our north-easterly course all the way to Nilaveli on the east coast, which is about 16 km north of Trincomalee. C Beyond Nilaveli is unique and a very special place to stay. The much quieter eastern seaboard mostly has either resort hotels or guesthouses as accommodation options, with very few exceptions, but happily C Beyond Nilaveli is one of those rare exceptions. The brilliant and eccentric artist Laki Senanayake made this beachside property extraordinary by incorporating natural and environmental design elements into empirical architectural models, such as supporting the wood-clad villa on pillars above a pool of water to take advantage of the cooling effect of onshore breezes. Unfortunately, guests still expected the unnatural (and unnecessary?) cooling effect of power-hungry and unsustainable air conditioning units, which the owner provided as a last resort. Don, the local manager who was going to be working elsewhere last time we visited, was thankfully still there after being persuaded by the owner to stay on. An urbane and experienced hotelier, Don is just what the place needs to run efficiently. He showed us the soon-to-be-opened pool suites, which will be the final development at the property when there will be nine bedrooms in total. What makes the villa even more exceptional is the original artwork by Laki adorning all of the rooms; he even created wall murals in the bathrooms! He obviously really loved this place and used to spend a lot of time here over the years.
That night we rested our heads at Nilaveli Beach Hotel, which we first visited en famille in November 2003 when Dihini was just a wee bairn. Since then, the resort has built Deluxe Rooms over the original restaurant and bar area as well as constructing a new, separate wing of Deluxe Rooms in the expansive beachfront estate. (Tikalanka only offers Deluxe Rooms at this hotel.) Normally, there is an average-quality buffet for all meals but, due to the lack of guests during our stay, we were provided with a set menu, which didn't cater well (at all?) for vegetarians or vegans and was even pretty ordinary for an omnivore or flexitarian. You don't come here for the food, that's for sure. However, comfortable enough rooms overlooking the shady garden with a generous pool fronting a glorious beach and an ocean safe to swim in is the real attraction of this resort.
I always enjoy my sojourns north to the Jaffna peninsula as it feels like visiting another country. Sateesh is definitely a bonus on this trip due to his native Tamil tongue, which is put to good use in the northern and eastern regions of Sri Lanka where much of the populace primarily speaks Tamil with only a smattering of Sinhala or English. The countryside and towns seem to have developed positively since our first visit to Northern Province in 2010 when the landscape and rural villages displayed all of the ravages of the brutal 30-year civil war that had ended the year before. However, there are still unsavoury relics from this period, including the innumerable road checkpoints, manned by both police and military personnel, and the high-profile presence of the military and police in towns of the north and east of the island – but not in the south or west. According to Pathi, the country does abide by the UN Convention on Human Rights but I am more sceptical. There always was a tangible feeling of 'us and them' between the population and government forces in these regions and I am afraid to say that it appears to linger on today.
We managed to arrive in Jaffna around lunchtime after a five-hour drive from Nilaveli, with a stop for breakfast, and went straight to Fox Jaffna. I still can't believe the quality of accommodation offered for the modest price paid. The original walauwa houses my favourite rooms, all four full of character, but the new block of rooms in the generous garden is also a good place to stay. The well-kept, walled garden bursting with trees and plants surrounds the buildings like a comforting embrace, and there is a swimming pool in which to cool off during your 'down time' from visiting the many interesting sites in the Jaffna area.
Deciding to give The Thinnai a miss, we instead drove out of town to Thinnai Organic but soon returned after realising that this place, full of potential, has been sorely neglected since our last visit and won't be promoted by us in the near future, which is a pity – you win some, you lose some. Conversely, Thambu Illam back in the city was a pleasing revelation, another heritage walauwa sensitively converted into a bijou boutique hotel. On our last visit, I was concerned about the upkeep of the property, particularly the back-of-house, but this time it all looked eminently presentable and the local manager, who we liked on the previous visit, was still there, thankfully.
North Gate by Jetwing overlooks the railway station, and the multi-storey building has far-reaching views over Jaffna city, port and archipelago in one direction and the tree-lined suburbs and verdant hinterland of Jaffna in the other direction. Not my top choice of accommodation in Jaffna but fine if you hanker after the amenities of a large hotel.
Through the manager at Jetwing Jaffna, where we were to be staying that night, we were able to take a sneak preview of Jetwing's newest, yet-to-be-launched property, Jetwing Mahesa Bhawan (website in development). It is going to be quite special, housed as it is in an historic and well-preserved grand mansion with the usual finishing touches for which Jetwing is famous – retaining and even emphasising the property's connection to its local cultural and architectural heritage.
For a straightforward city hotel, I like Jetwing Jaffna with its comfortable and functional, if slightly squeezed bedrooms and bathrooms, Tamil-themed restaurant, and the open-air rooftop bar, which is the highlight for me! What can be better than listening to the ebbing and flowing night life of the city while sipping a G&T in the warm tropical climes of Jaffna with your best Sri Lankan chum?!
Time was running out to arrange my pre-flight COVID-19 PCR test – outside of Colombo, only 24-hour tests are available and we weren't going into the metropolis this time around – and, after doing some research, we realised that Kurunegala was the centre closest to us that could provide this service – to our surprise and disappointment, neither Jaffna nor Anuradhapura had private laboratories for processing COVID-19 PCR tests at all. Consequently, we booked an appointment at a Durdan Laboratory in Kurunegala for the following morning on our way from Anuradhapura to the Kalpitiya peninsula.
Our return south was uneventful and we managed to get to The Ibis – Wilpattu, which is sited in the southern reaches of Wilpattu National Park, via Anuradhapura, by lunchtime. The location is magical, immersed as it is in an indigenous forest on the banks of a tranquil lake frequented by any number of wading birds and other wildlife, including elephants, if you're lucky. In fact, the owner has enhanced the experience by improving the landscaping and your interaction with the environment. However, this was the only improvement we would see and, lamentably, the opposite was predominantly the case. The local caretakers were not up to the task of managing the property properly and the accommodation, particularly the tree house, had deteriorated significantly with broken staircase treads and floor boards, unsecured and consequently potentially dangerous balustrading, damaged bathroom fittings, stained and unkempt mattresses, and poorly maintained roof structures. The rooms weren't as bad but I still wasn't happy with the quality of accommodation provided or the standard of hygiene practised, especially considering the premium price charged. Such a pity when this place has so much potential, but it may be a symptom of the owner's understandable reticence to invest further in the property when there is little hope of a tourism recovery on the horizon. We will have to wait and see whether the necessary changes are implemented before we are willing to bring customers back here.
Wilpattu Corridor, on the other hand, has managed well during the past two years and the four a/c tree houses were looking good, with a couple of them getting a routine refurbishment. The new manager was charming and would be a welcoming host. Opposite the main entrance to Wilpattu National Park, it is ideally located for jeep safaris in Sri Lanka's largest wildlife reserve and, as a bonus, overlooks an elephant 'corridor' on adjacent farming land.
Unfortunately, we missed seeing Thamaravila Resort, which is an upmarket place to stay not too far from the entrance to Wilpattu National Park, due to a family funeral, but I am sure that the luxury tented safari villas are up to scratch in any case. Instead, we drove back to Anuradhapura, visiting Forest Rock Garden Resort on the way. Modelled as a scaled-down replica of Anuradhapura ancient city, the resort is bizarre in many ways and endearing in others, not least because of the very generously sized and well-appointed rooms and suites scattered around the vast wooded estate, which are all accessed via elevated walkways suspended six metres above another elephant 'corridor'. We visited when the resort was closed to guests so it is very difficult to judge the state of play here. However, the rooms had been well looked after during the continuing hiatus in tourism and, from past experience, I would hope that it will bounce back with vigour when necessary.
Our sole visit in the island's first capital some three millennia ago was to The Sanctuary at Tissawewa within the precincts of the ancient city, which is a well-preserved, former Dutch colonial-era rest house. The only rooms of note are off the gallery balcony on the first floor and they all seem to have been kept well enough in the interim. We will retain it on our books for the few guests who choose to stay in Anuradhapura.
Palm Garden Village Hotel is the older sister property of Forest Rock Garden Resort and, previously, had been a 'starter' option of ours in the area, but not any longer. The over development of the property has spoilt what remained of the original, modest resort, although it is very difficult to know what shape or form the new version is going to take with all of the building works still going on. Certainly not to our taste from what we could envisage how the final form will look, particularly when the new development seems to have been at the expense of a much needed refurbishment of the old rooms, which are in dire need of an upgrade. We appreciated the complimentary accommodation provided but feel that it will not be the kind of place we wish to promote in the future.
My penultimate day on the island was supposed to have been a very busy and tiring one but ended up being relaxed and leisurely instead, which I can't say I minded! After the two-hour drive south to Kurunegala and a very efficient PCR test at the Durdans Lab there, we re-contacted the accommodation on the Kalpitiya peninsula only to find that it was either closed or not answering, turning a lengthy day of driving into only a couple of hours on the road as we headed directly to Negombo.
Both properties we visited in Negombo were definitely worth the effort, particularly Taru Villas – Riva, which is yet another triumph for Taru and her peerless group of special places to stay. I realise that I am a little obsessed by the walauwas and their ilk in Sri Lanka but they do have a mesmerising and bewitching otherworldliness about them, especially when they are either well preserved or renovated meticulously. And Taru Villas – Riva is the perfect exemplar of the latter. Nothing has been overlooked in its restoration and the anticipated attention to detail is all there down to the quality of the handwoven Indian rugs covering the floors and original modern artwork adoring the walls. The large rooms are finished immaculately, as expected; similarly the luxury bathrooms. The general areas are spacious, plush and relaxed, all imbued with a serene air of tranquillity. What a shame that it will be considered only as a brief night-stop or two on arrival or before departure being so close to the airport (20 minutes' drive).
The same could be said for Waterland, which is uniquely sandwiched between the Maha Oya river, one of the Dutch colonial era canals and a private coconut plantation towards the oceanfront north of Negombo. Quite a place indeed. The five pool villas are massive and are all themed differently – Peacock, Lotus, Fire, Elephant and Monsoon. There is a moored barge to dine on or to enjoy downing a couple of cocktails at sunset, a garden terrace for wining and dining, a games room, a spa (not functioning at the moment), and a long-tail motor boat for riverine excursions. Popular with families and honeymooners, Waterland seems to be a favourite haunt of many visitors to the island looking at the guest book and online reviews.
We always end up staying at Jetwing Beach when visiting the Negombo area and thanks to Dulashinee, a treasured colleague at Jetwing for many many years, we enjoyed a complimentary room each for the remainder of my time in Sri Lanka. Although a little dated now, the hotel has a superb oceanfront location and an excellent beach bar.
And that was that, another couple of weeks or so on the other island I know so well. If only we could show more travellers the delights of a country brimming with a fascinating and ancient history, rich and varied culture, awe-inspiring and diverse scenery, exotic and plentiful wildlife, and, of course, its wonderful and ever-smiling people. But that will depend on the pandemic and ensuing government policies, things out of our control...
I promised an overview of my experience of flying during the pandemic and here it is. Overall, it wasn't that much different from flying before COVID-19 appeared, although you need to make sure that you are well prepared for the flights regarding documents and I would strongly advise taking paper copies of everything required as I witnessed quite a few travellers having difficulties accessing the documents on their mobile phones at check-in, which led to delays for everyone.
Living rurally in the Lake District was an issue for arranging my pre-departure PCR test since proof of a negative result is required no more than 72 hours prior to departure. In the end, we decided to stay overnight near Manchester airport and pay for a 3-hour PCR test at one of the airport's drive-through facilities the day before my flight, which worked out well.
You are advised to check-in early and I arrived at the airport three hours before my flight. Checking in online definitely speeds up the process and, after a thorough check of my documents by Emirates, I was queuing at security. This was the only blip on the way out as, for some reason best known to no-one, my hand luggage was pulled over for a manual inspection – this has never happened before. After waiting 30 minutes with many other frustrated passengers going through the same experience, nothing erroneous was found and I was on my way again. A little annoying but at least the security is tight, which is reassuring.
Before boarding, I bought and used a preparative nasal spray for colds and 'flu which, I gather, is the routine of flight crews (I then applied it a couple of times through the flights). The initial flight was the same as always with a long queue waiting patiently, but not social distancing, to get on the Airbus A380. This flight between Manchester and Dubai wasn't full so there was a spare seat between me and another passenger. Wearing a face mask throughout the journey – from entering Manchester airport to leaving Colombo airport about 18 hours later – wasn't such a problem and Emirates was very hot on ensuring passengers wore face masks at all times, except when drinking or eating, of course. Emirates provided free face masks and hand sanitiser on both flights, and Dubai airport had hand sanitiser stations spread liberally around the terminal. My onward, connecting flight from Dubai to Colombo was packed to the gunnels (on a Boeing 777) and the passenger immediately next to me – I always have an aisle seat to the side – started to sneeze frequently throughout the flight but I was reassured by the mandatory requirement of a negative COVID-19 PCR test result before embarkation (this was pre-Omicron) and nothing later ensued.
Processing through immigration at Colombo was very easy and baggage reclaim a breeze. However, I was stopped at customs for a passport check for the first time ever, and just before leaving the arrivals security zone there were health department officials checking passengers' Health Declaration Forms and other travel documents. (This may change in the future since, from 01 January 2022, all travellers arriving in Sri Lanka via the airports must complete an Online Health Declaration Form individually and upload the relevant documents (vaccination record, pre-departure COVID-19 negative test report, data page of their passport etc.) prior to boarding. They should arrive with the QR code issued to them [mobile phone or hard copy].)
The return flight check-in was something else. Scheduled departure was 02.55 and I arrived over three hours before. However, the queue was already snaking back to the security point but, thankfully, I asked a fellow passenger about online check-in and that queue, around the corner and out of sight, was much smaller although just as slow. The problem? Not enough check-in staff at the counters and people having problems accessing virtual documents on their mobile phones. It took an hour and a half to check-in, which is the longest ever, and I was one of the lucky ones. As a consequence, we were 55 minutes late taking off and my connecting flight home was only an hour and a quarter after scheduled arrival at Dubai…
We did manage to claw back a little time on the flight, probably about 10 minutes, but that left me (and may others as it turned out) sweating whether I would make my connection. In true Emirates fashion, however, there were various members of smiling staff waiting for passengers from the delayed Colombo flight to chaperone them through the terminal and security at breakneck speed in order to make their connections. That's why I fly with Emirates, amongst other reasons. Again, the Colombo flight was full but the A380 to Manchester much less so.
I arrived in Manchester at 11.25 and went straight back to the drive-through testing station nearby for my Day 2 PCR test without a hitch as before. As I write this, the testing requirements have already changed twice since my return, which is why it is essential to continually check and recheck the COVID-19 testing requirements of your departure country, airline, transit airport (if applicable) and destination.
In summary, I would say that the experience of flying during the current pandemic is not too onerous or uncomfortable – let's face it, flying long-haul is never much fun in cattle class. I recommend:
regularly checking the COVID-19 testing requirements of your departure country, airline, transit airport (if applicable) and destination before you fly
printing out all documents required and taking hard copies with you
arriving at the airport well in advance of your flight
using a medical-grade face mask and changing it regularly (every four hours is recommended)
using a hand sanitiser regularly throughout the journey
using a nasal spray for countering colds and 'flu before and during the flight(s)
enjoying your holiday!
Categories: Accommodation, Flights, Health, News, Sightseeing, Sri Lanka, Travel tips
« All articles