Family
Sri Lanka's Speciality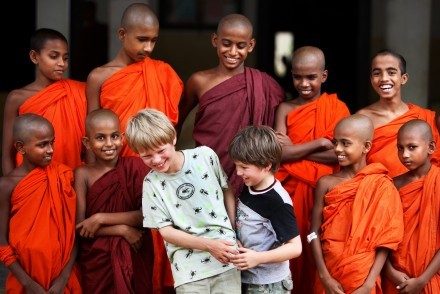 Our Family Sri Lanka holiday is a 15-day taster itinerary for an out of the ordinary family experience!
Starting in Kandy, the seat of the last Sinhalese kingdom and one of the principal points of the island's Cultural Triangle, your route takes you to Kitulgala for an adrenaline-pumping, white-water rafting trip over rapids followed by exhilarating canyoning along tributaries of the Kelani River. Continuing to Ella by a spectacular train journey through the verdant tea plantations and past the majestic mountains of the Hill Country, you then drop down to the hot and dry southern plain for a jeep safari in Yala NP to see leopards, elephants and sloth bears (hopefully!). The holiday finishes on the attractive and cove-sprinkled south coast with the opportunity to spot blue whales and much more on an early morning boat safari, or may be find time just to relax!
The accommodation includes a tented riverside cabin and lakeside eco lodge, a homestay guesthouse, a traditional tea estate bungalow, a contemporary beach retreat, and a magnificent Dutch colonial era villa.
For an extra-special stay, we offer options for various upgrades to luxury tea plantation bungalows, two-bedroom oceanside pool villas, family suites and eco lodges, and exclusive residences. Please contact us for more details.
Remember that all of our holidays to Sri Lanka and Maldives are truly tailor made with no set dates, accommodation, duration, routes or visits, so each holiday is unique and specially created to your very own interests and requirements.
Take a look below at the outline itinerary as an inspiration for creating your own out of the ordinary family holiday.
Trip Planner