Negombo
Beach Resorts Close to the Airport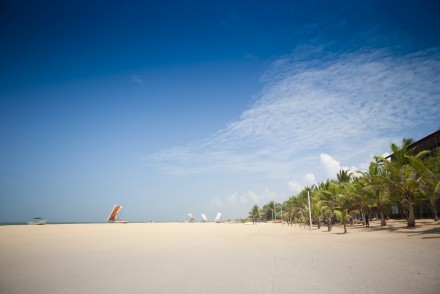 Negombo is for many the first port of call as the international airport at Katunayake is close by. One of the first sun and sea destinations in Sri Lanka over 40 years ago, Negombo has grown into a large resort area with varied accommodation. The tourists who now visit Negombo are not the first foreign invaders to take the area by storm. The arrival of the Portuguese in 1505 brought Christianity to the island and vestiges of this proselytizing are evident in the churches around Negombo where many fishermen were converted. The people of Negombo are 'Karavas', Tamil and Sinhalese fishermen who converted to Catholicism under the influence of the Portuguese. The Karavas are also famous for their unusual fishing boats, called 'oruwas', distinctive catamarans fashioned from a hollowed-out tree trunk attached to a massive sail. Hundreds of these vessels are still in use today and make an unforgettable sight when the fleet returns to shore. Negombo has a lively fish market, a large lagoon and a maze of Dutch-constructed canals.
Why visit Negombo?
Convenient for a stay on arrival or at the end of a holiday, Negombo is an established and busy beachside resort area with a wide variety of accommodation to suit all budgets close to the international airport at Katunayake.
Muthurajawela Wetlands
Muthurajawela Wetlands, or 'Swamp of Royal Treasure', in the southern region of Negombo lagoon covers over 3000 hectares and it is the country's largest saline coastal peat bog. The wetlands and mangroves, believed to have originated around 7000 years ago, are notable for the unique and highly diverse ecosystem and consequently are one of the priority wetland sites in Sri Lanka. In 1996, more than half of Muthurajawela Wetlands was declared a wetland sanctuary by the government in recognition of its great biological biodiversity. This brackish, integrated coastal ecosystem supports 192 distinct species of flora and 209 distinct species of fauna, including Slender Loris, as well as another 102 species of birds. Some of the identified species have been shown to be indigenous to the marsh. The best way of seeing the birds, butterflies, fish, crocodiles, monitor lizards and snakes inhabiting Muthurajawela Wetlands is by a boat safari.
Trip Planner