Yala
Leopards and Elephants and Bears, Oh My!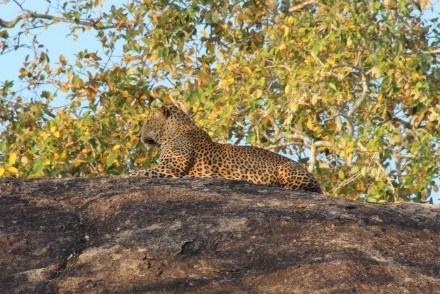 Yala National Park, also called "Ruhuna", is one of the island's best-known reserves, and one of its largest, encompassing an area of 1570 sq km (97,881 hectares, although only 14,101 hectares are open for tourism) in the south eastern corner of Sri Lanka. This region, known as the "Dry Zone", is dramatically different from the lush paddies and palm trees of the south coast. In the hour's drive from Tangalle to Hambantota, the gateway to the "Dry Zone", you would be forgiven for thinking you had stumbled onto an African plain. Here, the forests are dry thorn scrub, interspersed with small dusty glades - the ideal habitat to view elephants, Sri Lanka's largest mammal.
The park does have a varied landscape, however, from parkland to dense jungle on the plains, scrubland with rocky outcrops and several streams, small lakes and lagoons. The picturesque ocean frontage to the east has wide beaches and high sand dunes.
A former hunting reserve, which was transformed into a nature park in 1938, Yala National Park is currently home to over 390 elephants, several of which are tuskers, and about 120 leopards, reportedly the highest density of leopards in the wild anywhere in the world. Watching elephants go for their bath at sunset or seeing leopards laze about on the rocks at dusk are the most popular natural spectacles at Yala National Park.
However, you may also see other species of mammals such as elk, wild boar and buffalo, musk deer, black bear, the unique small Loris, macaques and langurs, jackals, mongooses, porcupines, civet cat, anteaters and the enigmatic sloth bear.
Over 150 species of birds have been recorded in Yala National Park, including the Sri Lankan Junglefowl, White-bellied Fish Eagle, Painted Stork, Black-necked Stork, Lesser Adjutant, Pompadour Green Pigeon, Orange-breasted Green Pigeon, Brown Fish Owl, Red-faced Malkoha, three species of bee-eaters, and large numbers of waders (including three species of pratincole and two thick-knees).
Most of the best wildlife areas in Yala National Park can be visited in a 3-hour jeep safari from Yala or Tissamaharama (Tissa).
IMPORTANT: Yala National Park is closed from 01 September for up to two months annually as a respite period for the animals and environment at the end of the dry season.
Trip Planner