Uda Walawe
The Island's Main Elephant Reserve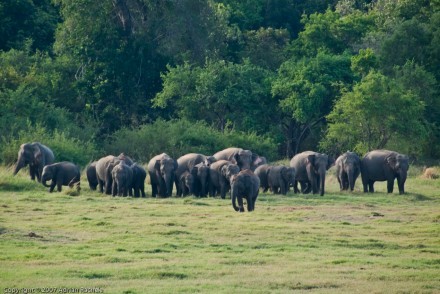 Uda Walawe National Park is renowned for its outstanding scenic beauty and wealth of animal species, particularly mammals and birds. The park's 30,821 hectares centre on the large Uda Walawe Reservoir, fed by the Walawe Ganga. Of all Sri Lanka's national parks, this best rivals the savannah reserves of Africa, with herds of elephants, wild buffalo and sambar deer, and leopards.
There are about 500 elephants in the park in herds of up to 100 individuals. Uda Walawe National Park is known to be the best place to see wild elephants in Sri Lanka, because of the elephant-proof fence surrounding the reserve, which prevents elephants from getting out and cattle from getting in. There are also populations of sambar, spotted and barking deer, wild boar, and water buffaloes. Other mammals include toque macaques and common langur monkeys, silver-backed jackals, sloth bears, toddy and civet cats, leopards (rarely), and mongooses.
For bird watchers, there are large numbers of warblers, together with the usual low country birds in forested areas, and a variety of raptors. Water birds found on the reservoir include rare visitors and breeding residents such as the Indian cormorant and osprey. Notable endemic species are the Sri Lanka spurfowl and junglefowl, Malabar pied hornbill, Sri Lanka grey hornbill, and the brown-capped babbler.
The Elephant Transit Home (ETH) at Uda Walawe is an excellent way of seeing baby wild elephants at close quarters in their natural environment. This conservation project, supported by the Born free Foundation, takes in baby wild elephants that have been separated from their mothers, or injured elephants, and cares for them until they can be returned to the wild. The young animals spend their days roaming freely in a section of the park, being observed at a distance by a few members of the ETH staff. They are fed at three-hour intervals in a specially constructed feeding yard, and this is the only time that they can be seen by tourists, who watch from a viewing platform separated from the yard itself. At no point can the tourists have physical contact with the animals. The sight of feeding time is very popular with local and foreign tourists alike as the elephants are enthusiastic, relaxed and full of character, unlike the elephants at Pinnewala Elephant 'Orphanage'.
Most of the best wildlife areas in Uda Walawe National Park can be visited in a 3-hour jeep safari from Uda Walawe.
Trip Planner