Kataragama
Pilgrimage For All Faiths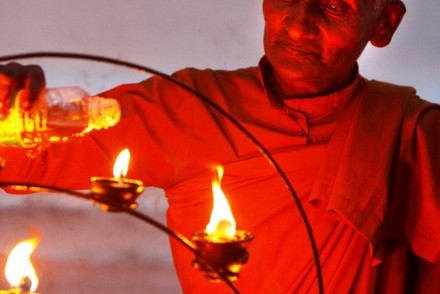 Then… and now
Kataragama has been described as "the holiest place in Sri Lanka". Certainly it is the most ecumenical of Sri Lanka's holy places. Inside an enclosure, around a temple dedicated to its namesake god, there stand various Hindu shrines, a church, two mosques and a large 'milk white' dagoba. For Buddhists it is one of the 16 most sacred places on the island and for Hindus it is one of the most important sites of pilgrimage in the country. The main deity, Kataragama Deviyo, is synonymous here with the 12-armed Hindu war god Skanda, whose lance, or vel, is held within the Maha Devale (Hindu temple), the most important shrine in the complex.
Kataragama has been a centre for worship and pilgrimage for over 2000 years, particularly during the Kataragama Festival in Esala (July/August), when conch shells blow, trumpets blare and drums beat out as voices rise in unison to a chorus of Haro Hara! Weird self-imposed tortures are endured by devotees with tongues transfixed by spikes or butcher's hooks penetrating the skin. Fire-walking is also a part of the Festival, devotees of Kataragama and Pattini seeking their blessing as they undergo the purification ritual.
Why visit Kataragama?
Kataragama (17 km northeast of Tissamaharama on the borders of Yala West National Park) is well off the beaten track and not often visited by tourists. However, it is a major and popular pilgrimage centre for Sri Lankans throughout the year, even outside of the great festivals. It is an atmospheric site and well worth a visit if you are on your way through the area from the Hill Country to the southern beaches, Bundala Bird Sanctuary or Yala West National Park looking for wildlife.
Most of the principal sites of interest at Kataragama can be visited in a 2-hour tour from Tissamaharama.
Trip Planner