Bundala
Bird Sanctuary and Ramsar Site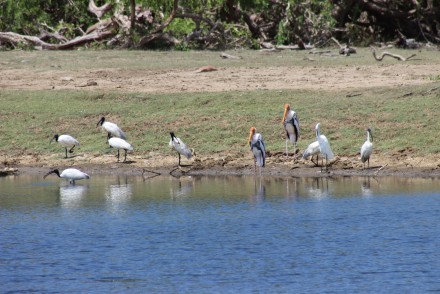 Bundala National Park is the first Ramsar site (wetlands of international importance) in Sri Lanka and It is the most significant wetland for birds on the island outside of Northern Province. The shallow, brackish lagoons and saltpans of the park are among the most important overwintering areas for migratory shore birds in the country, regularly accommodating over 15,000 birds at any one time. It is the last refuge of the Greater Flamingo in this region of the island, as well as being an important habitat for elephants and a variety of threatened reptiles. Bundala was declared a national park in 1969.
This bird sanctuary is home to every species of water bird resident in the country and during the northern winter, it is the final destination for countless numbers of waders of most species recorded on the island. The rare Black-necked Stork is said to be a breeding resident in Sri Lanka. Vagrants turn up occasionally including the Capion Plover, Ringer Plover, Common Redshank, Red Knot, Red-necked Phalarope, Common Avocet and various sandpipers.
The forest still harbours elephants and migratory herds of up to 80 have been reported in the area. Other mammals found in the park include the endemic toque macaque, common langur, jackal, leopard, fishing cat, spotted cat, mongoose, wild boar, mouse deer, barking deer, spotted deer, sambar, black-naped hare, Indian pangolin and porcupine.
Notable amphibians recorded in Bundala include mugger and estuarine crocodiles, common monitors, star tortoise and the endemic frog, Bufo athukoralei. The beach along the coastal belt is a favourite nesting ground for sea turtles, while the brush forest is home to a number of other reptiles including pythons, rat and cat snakes, and the endemic flying snake.
Between November and March, when the monsoon blows from the northeast, the indigenous population of wader birds is increased by the arrival of migratory birds. This is the best time of year to visit the reserve. Towards late afternoon, the crocodiles begin to hunt and the elephants come to drink on the shores of the lagoons.
Most of the best wildlife areas in Bundala National Park can be visited in a 3-hour jeep safari from Tissamaharama (Tissa).
Trip Planner