Jaffna
Cultural Capital of Sri Lanka's Tamils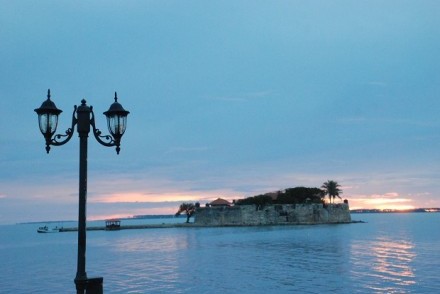 Then…
The earliest settlers came across the Palk Strait from the Tamil heartlands of southern India, only 50 km away, in the 2nd or 3rd century BC. Some of these pioneers may have been Buddhist rather than Hindu, as evidenced by the curious miniature dagobas at Kantharodai north of Jaffna that date back to a similar period. Over subsequent centuries, the population was supplemented by further immigration, entrepreneurial traders and invasion by mercenaries. Over time, the peninsula developed into the capital of the powerful Tamil kingdom of Jaffnapatam, which, at the height of its influence in the mid-14th century, reached as far south as Colombo. Successive colonial powers, beginning with the Portuguese, coveted the peninsula, since its strategic position flanking the Palk Strait enabled it to control the trading routes between eastern and western India. Following independence from Britain in 1948, the region became a hotbed of ethnic violence and one of the foci of the brutal civil war that ensued. Large areas of the city were destroyed between the start of the conflict in 1983 and peace being declared in 2009.
…and now
Jaffna is acknowledged as the cultural capital of Sri Lanka's indigenous Tamil community and without doubt the largest town in Northern Province. Although Jaffna was involved initially in the civil war's fiercest battles, its isolated population was spared the devastation at the end of the conflict as it had been in government hands since 1995. Geographically closer to India than to Colombo, Jaffna also is influenced culturally from the north. Once in Jaffna you appreciate immediately that you have arrived in a different land with Tamil script adorning highly-decorated advertising hoardings and shop fronts while the unmistakable high-pitched ululations of Hindi songstresses resound in streets filled with scooters and bicycles dodging the sacred Brahman cows meandering unpredictably to forage amongst the abundant litter.
Jaffna is home to the Nallur Kandaswamy Kovil, one of the island's most holy Hindu temples, which is the most impressive religious building in the city and it has cacophonic puja ceremonies (blessings) daily. Within the city are the reconstructed library, once a repository of world-renowned and historic Tamil texts, and the fort, a disappointing edifice of dubious significance undergoing an ill-conceived restoration programme. Further afield and accessed by ferries are the islands of Nainativu (Nagadipa), site of important Hindu and Buddhist temples, and windswept Neduntivu (Delft), home to wild horses of Dutch origin.
Why visit Jaffna?
All in all, Jaffna is not a city of many 'must see' sites and, as a tourist destination, it is still a work in progress, awaiting the development of quality accommodation and interesting places to eat. The real appeal of the area at the present time is the ethereal nature of its environs and the innocence and sincerity of its people, a testament to the powers of fortitude and resilience in the face of adversity.
Trip Planner