Passikudah
One of the Island's Finest Beaches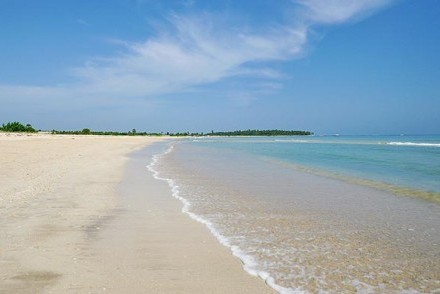 The east coast of Sri Lanka south of Trincomalee, which is one of the island's poorest and least developed regions, has only been open again for business since the end of the civil war in 2009. However, before the conflict started in 1983, the beautiful crescent-shaped bay of Passikudah and its neighbour, Kalkudah, were the place to go from May to October and the demise of this area during the conflict was Maldives gain since this island archipelago was a tourist backwater until then – how times have changed!
Passikudah is now in the throes of a renaissance since it was earmarked as one of the government's special tourist development zones. There has been much (over?) development in the last few years, with twelve new resorts being constructed, and the beach graded and manicured. Passikudah has one of the most attractive bays on the island and a more low-key approach may have suited the area better. Nonetheless, the beach is still stunning and the resorts on offer are of a high standard.
What to see and do
Kick back and relax is the true mantra of Passikudah! The beach and ocean are the main attractions of the area, with a variety of water sports on offer including wind surfing, jet skiing, kayaking, diving and snorkelling, as well as a selection of wellness spas, restaurants and terrace bars in the various hotels. There are few sites of interest in the immediate area and suggested sites further afield are best visited when staying locally.
Trip Planner