Kumana
Yala East National Park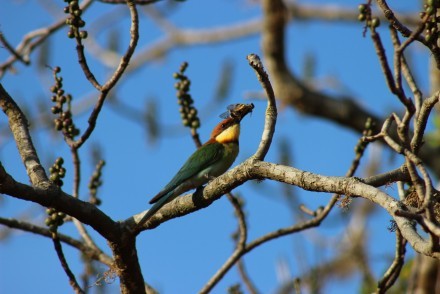 Kumana National Park (formerly Yala East National Park) lies just 12 km south of Arugam Bay in the southeastern corner of the island. Together with Yala West National Park, Kumana is renowned for the variety of its wildlife, largely characteristic of dry zone tropical thorn forest. In addition, the mangroves of Kumana provide particularly important habitat for birds.
Kumana National Park is one of the island's principal bird sanctuaries, and it is also home to leopards, sloth bears and elephants roaming across the unprotected border from neighbouring Yala West National Park. Spanning 18,150 hectares, Kumana is best known for its abundant bird life, and a considerable number of bird species breed and feed here. The park was established in 1969.
One of the most significant features of the park is the Kumana Villu, a 200-hectare natural swamp lake fed by the Kumbukkan Oya, which hosts tens of thousands of migratory birds between April and July. Two hundred and fifty five species of birds have been recorded in Kumana including rare species such as the Black-necked Stork, Lesser Adjutant, Eurasian Spoonbill, Great Thick-knee, Yellow-footed Green Pigeon, Greater Racket-tailed Drongo, Malabar Trogon, Red-faced Malkoha and Sirkeer Malkoha.
Why visit Kumana National Park?
So much quieter than its more illustrious neighbour, Kumana is a hidden gem of a national park, offering all of the wildlife spotting opportunities of Yala next door without the irritating hullabaloo of an armada of jeeps! But visit soon before the word gets out.
Kumana National Park may be visited on a 3-hour jeep safari from Arugam Bay.
Trip Planner