Arugam Bay
A Surfer's Paradise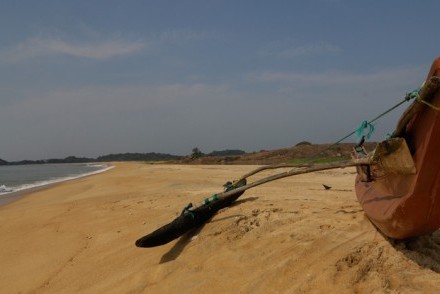 The nondescript village of Arugam Bay essentially is renowned for one thing, and one thing only – surfing. The famed long right point break at the southern end of Arugam Bay is considered to be the best surf spot in Sri Lanka, offering consistent waves from April to September. The area is a cultural mix of Tamils, Sinhalese and Muslims, as well as many ex-pat Europeans, who settled for a sybaritic lifestyle. The arc of soft sand that fronts the bay is nice enough, but pretty unexceptional when you compare it with the likes of Passekudah and Kalkudah further north along the east coast. Most of the accommodation is guesthouses and homestays, although a couple of larger properties have opened recently of a modest variety. Villas in the locale and further afield are beginning to appear, which will up the ante for the accommodation presently available.
The real attraction in the region other than surfing is wildlife. Kumana (Yala East) National Park, to the south and accessed via Okanda, and Lahugala Kitulana National Park, inland from Pottuvil, are the major highlights. There are also cultural sites of interest in the area, including one of the largest coastal Hindu temples at Okanda, said to mark the spot where the god Kataragama landed on the island. Inland from Okanda is the enigmatic forest hermitage of Kudimbigala, where hundreds of Buddhist monks once lived in caves, hidden away in dense forest between boulders and rock outcrops. Between Arugam Bay and Lahugala lie the magical ruins of Magul Maha Vihara, a wonderful complex of weathered old brick and stone shrines and stupas nestling in jungle.
Why visit Arugam Bay?
If you are after the waves then visiting the island's surfing Mecca will be top of your list. However, even if you aren't an ardent surfie, the laid back southeastern corner of Sri Lanka may have other charms. Arugam Bay is a convenient base for enjoying jeep safaris in lesser-known but significant national parks, and visiting seldom-seen and atmospheric cultural sites. Then there is always lazing around on quiet, uninhabited beaches to consider as well!
Read More
Trip Planner