Sigiriya
Lion Rock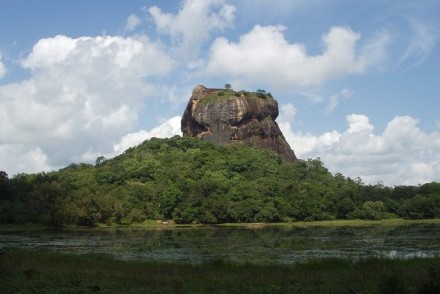 Then…
Kassapa (473-91 AD), who had not been made heir to the throne, murdered his father, King Dhatusena, and established his capital in the rock fortress at Sigiriya. As was common practice in such circumstances, his half-brother, Moggallana (491-508 AD), the rightful heir to the throne, ran off to the mainland to raise an army and take the throne for himself. His negotiations took 18 years, and in the meantime Kassapa built an impregnable fortress on a 200-metre high rock that, even today, towers over the forest below.
While there was no sign of Moggallana, Kassapa indulged himself and added a water garden and a gallery of 500 topless apsaras (celestial nymphs) so beguiling that generations of graffiti artists have poured out their hearts in verse. However, Moggallana did finally return, and after watching Kassapa take his own life on the battlefield, he returned the capital to Anuradhapura with the help of his Chola mercenaries.
…and now
The vast flat-topped "Lion Rock" or Sigiriya stands starkly above the surrounding countryside of the central forest with magnificent views over the Dry Zone and south to the Central Highlands. It was an exceptional natural site for a fortress, which gets its name from the lions which were believed to occupy the caves. In addition to the remains of the rock fortress with its palaces and famous frescoes, there are extensive grounds, including water and boulder gardens, at the base of the rock and the site is enclosed by an outer moat containing water. Sigiriya was designated a World Heritage Site in 1982.
Why visit Sigiriya?
For many visitors, this impressive site is their favourite in the whole of Sri Lanka. There are stunning views from the top, which is best ascended at first light when it is cooler and less busy than later on in the day.
Most of the principal sites of interest can be visited in a 3-hour tour from Sigiriya, Dambulla or Habarana.
Read More
Trip Planner