Ritigala
Forest Monastery and Cave Hermitage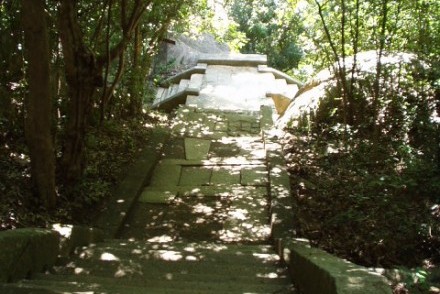 Then…
Ritigala's remoteness appealed to solitude-seeking hermits, who began to settle here as far back as the 3rd century BC – 'Riti' derives from the Pali 'arittha', meaning 'safety', and 'gala' means 'rock' in Sinhala, so Ritigala was originally a place of refuge. In the 9th century AD, Ritigala became home to an order of reclusive and ascetic monks known as 'pamsukulikas', who devoted themselves to a life of extreme austerity – 'pamsukulika', meaning "rag robes", refers to the vow taken by these monks to wear only clothes made from rags either thrown away or recovered from corpses. The order was an attempt to revive the austere lifestyle led by the Buddha following his Enlightenment and to return to traditional Buddhist values in reaction against the comfortable and self-indulgent living conditions of the great monasteries of Anuradhapura. Their dedication won them many admirers including King Sena I (831-851 AD), who built them a fine new monastery, endowing it with lands and servants – most of the remains you see today date from this era.
The mountainside on which the monastery sits is allegedly the Ramayana's 'Aristha', the place from which Hanuman, the monkey god, leapt from Lanka back to India, having discovered where Sita was being held captive. According to popular belief, Hanuman later passed by Ritigala again, carelessly dropping one of the chunks of Himalayan mountain that he was carrying back from India for its medicinal herbs (other fragments fell to earth at Unawatuna and Hakgala), a legendary explanation said to account for the unusual range of herbs and plants that are found on the mountain's plateau. The prosaic botanical explanation is that the mountain's relatively cool microclimate supports a much greater natural diversity than the hot, dry plains below.
Ritigala was abandoned following the Chola invasions in 10th and 11th centuries, after which they lay deserted and largely forgotten until the site was discovered by British surveyors in 1872, and later explored and mapped by HCP Bell in 1893.
…and now
North of Habarana, the mysterious and seldom visited remains of the forest monastery and cave hermitage of Ritigala lie scattered over the lower slopes of a densely wooded mountainside, which is now protected by the Ritigala Strict Nature Reserve. The jungle-covered, fractured stone structures, fallen carvings and once-sacred caves possess a magical but enigmatic ambiance, while the setting deep in a totally undisturbed tract of thick forest adds to the sense of mystery. Parts of the 24-hectare complex have been carefully restored, while others remain buried in the forest, but despite the considerable archeological work that has been completed here, the original purpose of virtually everything you now see remains largely unknown. One striking feature is the site's complete lack of residential quarters – the monks themselves appear to have lived entirely in caves scattered around the forest, of which more than 70 have been discovered.
Why visit Ritigala?
Possibly the least visited archeological site of importance in the Cultural Triangle, the enigmatic remains and jungle setting of Ritigala would not look out of place on an Indiana Jones film set! It is an evocative location filled with mystery and portent, and it is definitely worth a visit if you are interested in the historical, cultural, artistic and architectural heritage of Sri Lanka.
Most of the principal sites of interest can be visited in a 2-hour tour from Polonnaruwa, Habarana, Sigiriya or Dambulla.
Read More
Trip Planner