Mihintale
Cradle of Buddhism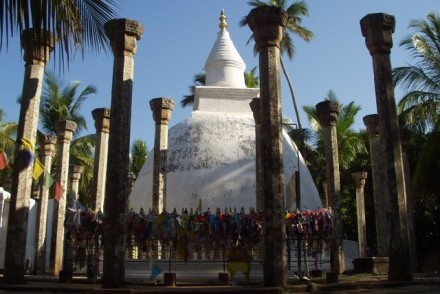 Then…
The history of Mihintale is the history of Sri Lankan Buddhism, which begins with the story of the Indian missionary and Buddhist monk, Mahinda, since this is, literally, Mahinda's Mountain. This was where King Devanampiya Tissa was converted to Buddhism by Mahinda in 243 BC. The legend tells how King Tissa was chasing a stag during a hunting expedition. The stag reached Mihintale and fled up the hillside followed by the King until he reached a place surrounded by hills, where the animal disappeared and the frustrated King was astonished to find a gentle person who spoke to him about the Buddha's teachings. It was Mahinda, Asoka's son, who had come to preach Buddhism. Mahinda tested the King, found him worthy and was able to convert the King to Buddhism with 40,000 followers. Buddhism soon overwhelmed the island, embraced with fervour by the Sinhalese people, whilst in India it declined. The Buddha himself sanctified this mountain three centuries before Mahinda's visit.
…and now
Mihintale is one of the 16 most important pilgrimage destinations in the country, with the Poson (June) full moon festival in particular attracting thousands of pilgrims. The three flights of granite steps to the top, totalling about 1840, take the pilgrim through the shadows of the spreading temple trees to the summit. They were built in the reign of Bhathika Abhaya (22-7 BC), but a later paved road provides a short cut. The first flight of steps is wide and shallow. The climb is sufficient to require regular deep breaths and a meditative pace.
Why visit Mihintale?
Regardless of your beliefs, the beautiful shrines, stupas, caves and, above all, the wondrous setting, make Mihintale unforgettable. Looking over the flatlands around Anuradhapura from Mihintale is a wonderful opportunity to get to know the countryside of the central north, where life still depends on the precious water in the pools and channels built by the kings of long ago.
Most of the principal sites of interest can be visited in a 3-hour tour from Anuradhapura.
Read More
Trip Planner