Knuckles
Mist-laden Mountains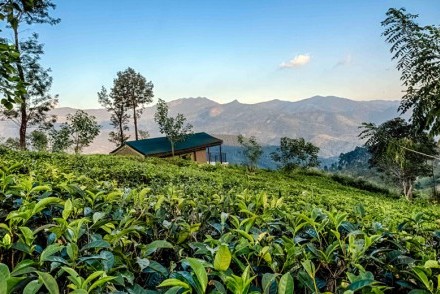 The Knuckles Mountain Range rises to the east of Matale and Kandy in Central Province and derives its name from a series of peaks in the west of the massif that resemble the knuckles of a clenched fist. However, although this name was adopted by early British surveyors, the local Sinhalese residents have traditionally referred to the area as Dumbara Kanduvetiya, meaning "mist-laden mountains".
The entire region is characterised by the astounding landscapes that are often enveloped in thick layers of cloud, which imbues an ethereal charm. However, in addition to its aesthetic value, the Knuckles is of great scientific interest, too, and this has been acknowledged globally by including the Knuckles Conservation Forest in the island's latest inscription to the World Heritage List (The Central Highlands of Sri Lanka, 2010). Its importance cannot be underestimated: 64% of the amphibians and 51% of the reptiles in the Knuckles Conservation Forest are endemic. The area is a climatic microcosm of the island as a whole, with typical conditions of all climatic zones being displayed in the massif. At higher elevations there is a series of isolated cloud forests, harbouring a variety of flora and fauna, some of which cannot be found anywhere else in the world. Although the range constitutes only approximately 0.03% of the island's total area it is home to a significantly higher proportion of the country's biodiversity.
The range has traces of human life dating back to the Mesolithic period, the Early Iron Age, and the Pre- Colonial period (before 1505). Several sites dated at 28,000 BC have been identified and associated relics, primary tool types, and microliths, have been found. A number of caves that were occupied by Mesolithic man have recently been identified. The area is rich in prehistoric evidence and further research is expected to provide additional information about its occupation in prehistory. Several caves with drip-ledges dating from the Iron Age (2nd century BC to 1st century AD) have been discovered.
The Knuckles is an ideal area for hiking and trekking or kicking back and communing with nature! The region is still a tourist backwater, which will appeal to many visitors, although there is good quality accommodation available at isolated locations round about.
Trip Planner